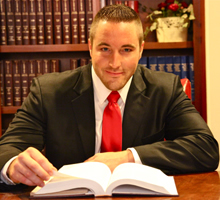 You cannot be compelled to perform field sobriety exercises. Refuse to do so.
Tallahassee, FL (PRWEB) November 18, 2016
Getting a DUI can have major, long-lasting repercussions. "When you are facing DUI charges, it is important to realize that in addition to severe penalties such as jail time and fines, you are also facing potential license suspension or revocation," said criminal defense attorney Nathan Prince, founder of the Law Office of Nathan Prince.
If stopped by the police, Prince lists the following three DUI survival guide tips:
No. 1: Don't perform field sobriety exercises. "You cannot be compelled to perform field sobriety exercises. Refuse to do so," stressed Prince. "The truth is that in most cases, if the officer has asked you to perform the exercises, he's already decided he's going to arrest you. Plus, the field sobriety exercises are very difficult to perform to standard, even if you are sober. Don't make the case against you worse. Just refuse to
perform the exercises and let the officer arrest you if that's what he's going to do."
No. 2: Don't blow. "Unless you know for a fact that you are not under the influence of any drug or alcohol, do not provide a breath sample if the officer requests one," said Prince. "The caveat to this piece of advice is that if you have previously refused to provide a breath sample in another case, refusing in a second case itself constitutes a criminal offense."
No. 3: Don't talk your way into a conviction. "Too often, people who don't appear impaired on the arresting officer's in-car video camera do themselves in by admitting to excessive drinking or saying 'I know I've had too much to drink,'" concluded Prince. "Even if it's true, you don't have to give that information to the cop. Exercise your right to remain silent and keep your mouth shut. It will make it easier for your attorney to achieve a positive outcome on your case."
About Nathan Prince, Law Office of Nathan Prince
Nathan Prince has successfully handled thousands of trial and appellate cases. He is licensed to practice in all Florida State Courts and in Northern District of Florida Federal Court. The Law Office of Nathan Prince focuses on criminal defense and personal injury. For more information, please call (850) 601-5690 or visit http://www.nateprincelaw.com. The law office is located at 215 Delta Court, Suite 6, Tallahassee, FL 32303.
About the NALA™
The NALA offers small and medium-sized businesses effective ways to reach customers through new media. As a single-agency source, the NALA helps businesses flourish in their local community. The NALA's mission is to promote a business' relevant and newsworthy events and achievements, both online and through traditional media. For media inquiries, please call 805.650.6121, ext. 361.