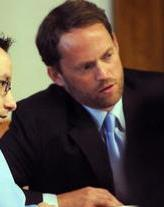 Guarantee Trust Life refuses to accept responsibility in this matter, leaving Mr. Casper to fight them even after his death.
Golden, CO (PRWEB) October 01, 2014
Nearly a year-and-a-half after filing his lawsuit, and just days after a Pueblo County District Court jury awarded him $4.75 million; Michael D. Casper passed away from prostate cancer at 61 years old. Casper had been too sick to be present during the trial proceedings.
According to the Court Documents (District Court, Pueblo County 12CV740,  Division D), Casper was being treated for BPH, a benign non-cancerous condition of his prostate, when he purchased a first diagnosis cancer policy from a door to door saleswoman.  Mr. Casper answered all the applications truthfully, signed releases for Guarantee Trust Life Insurance Co. (GTL) to review his medical records, and was immediately insured by GTL for coverage, if he ever in the future was diagnosed with cancer.  When Mr. Casper was ultimately diagnosed with cancer, GTL only then, reviewed his medical records and denied the claim, based on him receiving prior prostate treatment.
Michael D. Casper is represented by David Jones of the Golden firm, Law Offices of D.R. Jones and Zach Warzel, of the Denver firm Roberts, Levin, Rosenberg. "We told the jury in this trial, that Guarantee Trust Life is a company that did not live up to their name in the handling of Mr. Casper's claim.  At each opportunity they have had, GTL has refused to live up to their name and just pay the benefits they owed to Mr. Casper," said co-counsel, David Jones. "First they tried using ambiguous, confusing and hidden language in their policy to justify denying the claim. The jury rejected that justification. Then, they blamed the marketing company they hired to sell the policy.  That argument was rejected by the jury. Then, they even blamed Mr. Casper for somehow not getting diagnosed with cancer sooner.  That argument was also rejected by the jury. Now, they once again are not living up to their name in asking for the verdict to be overturned or reduced. They truly just refuse to accept responsibility in this matter, leaving Mr. Casper to fight them even after his death."
For 18 years, David Jones has been helping good people facing bad situations.  The team of legal professionals at the Law Offices of D.R. Jones includes founder and attorney, David R. Jones, Attorney Patrick Westman and office manager, Cheri Saylor- Jones.
Law Offices of D.R. Jones's areas of practice include personal injury, bad faith insurance claims, family law, all types of criminal allegations and post-conviction relief. They are located in both Denver and Golden.  For more information, please call 303-279-1586 or visit http://www.drjoneslaw.org.
About Law Offices of D.R. Jones
Founder and Attorney D.R. Jones is a highly-regarded trial attorney who routinely speaks and teaches concerning all areas of trial practice.  Their clients are never treated as just a case file passing through the legal system. They offer compassion and comprehensive legal services to people throughout the state of Colorado.
About NALA™
The NALA offers local business owners new online advertising & small business marketing tools, great business benefits, education and money-saving programs, as well as a charity program.
PR Contact
ttendell(at)thenala(dot)com,
805.650.6121, ext. 361