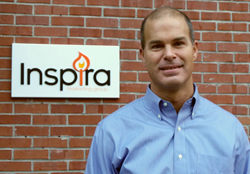 We believe Lawrence's addition to the team will set us up for even greater growth as we move into 2015. ~ Jeff Snyder, Chief Inspiration Officer, Inspira
Norwalk, CT (PRWEB) December 05, 2014
Inspira Marketing Group announced Lawrence Story has been named Vice President of Business Development for the rapidly growing and awarding winning experiential marketing firm.
Story brings over 20 years of marketing experience and industry relationships to Inspira and will be responsible for leading outbound efforts to increase the agency's client base and expand services for existing clients.
"We are thrilled to have Lawrence join the Inspira family," said Jeff Snyder, Inspira's founder and Chief Inspiration Officer, "His wealth of experience and industry knowledge will help to ensure the continued success of our company. We believe Lawrence's addition to the team will set us up for even greater growth as we move into 2015."
The new position reflects Inspira's continued commitment to rapid growth and industry excellence. In 2013, Inspira was named one of the "Fastest Growing Agencies in the U.S." in The Agency Post Agency 100 and has been listed as a "Top Shop" by Chief Marketer for each of the past two years.
"My goal is to help Inspira continue to be one of the premier experiential agencies in the industry by expanding our already impressive list of clientele and fostering long-lasting relationships with those brands," said Story of his new role.
Before joining Inspira, Story served as Director of Sales at Access Sports Media. Prior to Access Sports Media, he worked with high profile clients, including American Express, Sports Illustrated, NBC, General Motors and more.
About Inspira Marketing
Headquartered in Norwalk, CT, Inspira is an independent agency specializing in delivering unique, audience-centric marketing campaigns and strategies for a broad range of clients in all categories, including Microsoft, Jim Beam, General Mills, and Pfizer.
Facebook: https://www.facebook.com/InspiraMarketing
Twitter: http://twitter.com/inspira_mktg
LinkedIn: http://www.linkedin.com/company/inspira-marketing-group