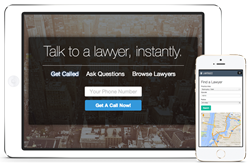 We created LawTrades to make legal services seamless, intuitive, and technology-driven.
New York, NY (PRWEB) May 07, 2014
LawTrades (https://www.lawtrades.com), the fastest way to talk to a lawyer online, has officially announced its public launch in 25 cities with hundreds of individuals and businesses seeking legal help registered to use the service. Designed to cut through the clutter, the LawTrades platform is a free service that allows anyone to find a nearby lawyer, receive live help, and hire if needed.
"As a law school graduate and entrepreneur myself, I deeply understand how time-consuming and stressful the process of finding and connecting with a reputable lawyer can be," said Raad Ahmed, Founder and CEO of LawTrades. "We created LawTrades to make legal services seamless, intuitive and technology-driven to make people feel as comfortable meeting a lawyer online as they would in the confines of a traditional law office."
At launch, lawyers from more than 25 cities created their virtual practice on LawTrades. They come from esteemed law schools such as Harvard, Columbia and NYU. Each lawyer brings an average of nine years of legal experience to the platform.
"There's a lot of confusion about how to connect with a lawyer and traditional law firms have had little incentive to explain, " said J. Paul Vance, a former elected official and LawTrades lawyer. "Anything that reduces friction with finding people the right lawyer is a huge win."
LawTrades works in three unique ways:
► Get Called: Simply enter your phone number and be automatically connected to the first available lawyer based on your location and legal issue.
► Ask Questions: Anonymously submit your legal headache for relevant lawyers to respond to.
► Book Lawyers: Compare lawyers based on price, reviews and availabilities and then book real-time appointments with them, instantly.
Lawyers on LawTrades are independently verified to ensure they meet the strict quality standards. "Finding just any lawyer online is not enough," Ahmed says. "We find the cream of the crop lawyers and reward them with a suite of tools that drives their overhead costs down. Our evolving economy demands legal services calibrated to continual and straight-forward interactions."
LawTrades is available now for free on LawTrades.com. To learn more and take advantage of this revolutionary service in the legal industry, go to https://www.lawtrades.com or follow on Facebook and Twitter at @lawtrades.
About LawTrades:
Founded in 2013 with a mission to make lawyers affordable, accessible and transparent, LawTrades is a free service that allows anyone to find, meet, and consult with lawyers over the internet via LawTrades.com. The company was founded by Raad Ahmed, 26, who holds a JD from the University at Buffalo Law School. By seamlessly connecting people to talented lawyers, LawTrades helps most people get access to legal help in just seconds. They are based in New York City.
Contact: press(at)lawtrades(dot)com