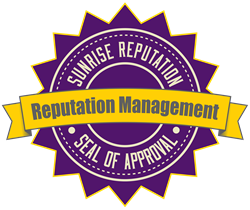 When you find negative information about yourself, think about the ideal outcome, you want positive information to show up, and that's what we do. - Brandon Hopkins, SunriseReputation.com
Los Angeles, CA (PRWEB) August 23, 2013
Whether a lawyer or attorney at law, there might be a time that you need help with your online reputation and Sunrise Reputation is ready to help. Their extensive knowledge has adequately prepared them for reputation management cases involving lawyer and attorneys. "We have worked with multiple lawyers and attorneys and have been able to help all of them. Some of our clients come to us with their own legal problems while others are a civil matter. From a DUI to a psychopathic stalker, we've worked with just about every type of situation," explains SunriseReputation.com owner Brandon Hopkins.
Those in the legal field typically have a fairly extensive online presence as their are a few different sites that list lawyers along with the ability to leave reviews. Hopkins goes on to say, "review sites are typically a problem for most lawyers. When people are unhappy they want to complain to someone. When people are pleased, they might thank you and go about their day, this leads to reputation problems online." The way most review sites work is not in favor of the person or company being reviewed. Typical review sites ask the reviewer to leave a remark and a star rating on a scale of 1 to 5 with 5 stars being the best. "The review system being used by most sites is antiquated. Review sits presume that you will get an equal number of positive and negative reviews which just is not the case. A single 1-star review and no other reviews will have your social profile listed among the worst businesses online when in fact you might have 100 happy customers every day, and 1 unhappy customer per month. Does that sound like a fair rating system?" Hopkins says.
For a lawyer with negative reviews, Sunrise can help. "We have clients with negative ratings at Martindale as well as Avvo and they all work the same, you can spend your time and energy fighting against the flawed system, or you can just push the system down where nobody will ever see it. We prefer the latter for the simple reason that you cannot control what review might pop up tomorrow," explains Hopkins.
For the lawyer who has negative information posted about him or her online, Sunrise also has a solution to that. "When you find negative information about yourself, think about the ideal outcome, you want positive information to show up, and that's what we do," Hopkins says. "Our goal is to paint you in the right light and push down the negative and usually false (sometimes libelous) information."
For more information on how Sunrise Reputation can help you as an individual or your law practice contact them online at http://www.SunriseReputation.com or by phone at 559-871-1613.