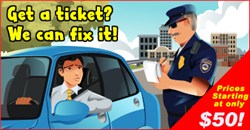 St. Louis, MO (PRWEB) August 10, 2013
Attorney Gerry Guerra of the St. Louis traffic law firm (888)TRAFFIC, LLC has added new information to his traffic law website, explaining how traffic tickets may be amended. Traffic tickets may often be reduced to lesser offenses that will not raise a driver's insurance premiums. He is often asked how his law firm is able to reduce speeding tickets and other moving violations to lesser traffic tickets that don't result in points being assessed to his clients' driving records. While hundreds of traffic tickets to drivers may be issued in metropolitan St. Louis on a single day, only a fraction of the drivers receiving moving violation traffic tickets understand that a skilled traffic lawyer will be able to reduce the ticket that was issued to one that does not result in points being assessed to their driver's license. The process between traffic ticket attorneys and city, county and municipality prosecuting attorneys serves to keep the system moving effectively, preventing a minority of the drivers issued traffic tickets, who would otherwise wish to argue their case before a judge, from clogging the entire system. The driver, who typically must have a clean driving record to be eligible for an amended ticket, will still pay a fine, providing both a punitive measure to the driver and revenue to the local government entity. A new section on http://www.fixmyticket.com explains this information in greater detail, providing the answer to the most common traffic ticket question.
Approximately 20 states provide a method for drivers to reduce speeding and other traffic tickets to lesser offenses, although the costs and fees for doing so vary widely and not all municipalities within those states allow traffic tickets to be reduced. The costs for reducing a traffic ticket in Missouri are among the lowest, starting at roughly $50 including the fine, while the costs for reducing a ticket in other states are as high as $500. The average cost for reducing a speeding ticket nationwide is roughly $250. Increases in insurance premiums will often be far more than this, even in the short term. Over two to three years, the cost of a speeding ticket from the cost of the fine to the increased auto insurance premiums could easily be in the thousands of dollars for most drivers. The number one tip for avoiding this from all traffic law firms is speak to an attorney who regularly handles traffic tickets about having it reduced to a lesser ticket that does not result in points being assessed to a driving record.
Traffic lawyers also handle more complex driving issues such as when multiple tickets were issued at one time, traffic tickets for serious driving violations or to drivers who already have a number of tickets on their driving record, such as cases where the most recent ticket could result in a driver's license suspension or revocation. Maintaining a clean driving record protects a driver's access to a license and keeps insurance rates low and a knowledgeable traffic ticket attorney can help drivers navigate the traffic legal system and feel confident they are making good decisions, and often times save money. Interested parties are encouraged to visit http://www.fixmyticket.com for more information.
About (888)TRAFFIC, LLC
Gerry Guerra and (888)TRAFFIC, LLC provide complete legal services relating to driving, from reducing St. Louis area speeding tickets to representing those injured in a motor vehicle accident. As an experienced attorney, he is able to provide unparalleled legal representation to St. Louis and other Missouri drivers at highly competitive prices. The St. Louis traffic law firm handles speeding tickets, stoplight and stop sign tickets, driving while intoxicated (DWI), driving while suspended and other types of moving violations and driving infractions in St. Louis, St. Charles and Jefferson Counties. The St. Louis-based traffic law firm will provide no-cost consultations to those in need of a traffic lawyer in Missouri. They may be reached at 1-888-TRAFFIC or by visiting the firm's website at http://www.fixmyticket.com.