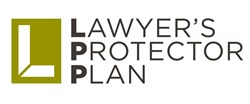 Our claims team works in partnership with our underwriters to provide holistic insurance program solutions that include risk management for claim avoidance, Michele M. Molinelli, AVP Claims
Tampa, FL (PRWEB) February 05, 2014
"The LMRM conference provides professionals dedicated to lawyers professional liability and risk management an opportunity to gather together each year to share updates and insights on how to better serve lawyers and law firms," said Ms. Molinelli. "In the LPP program, our claims team works in partnership with our underwriters to provide holistic insurance program solutions that include risk management for claim avoidance."
Prior to joining the LPP® in August 2000, Ms. Molinelli attained the rank of Major in the U.S. Army Judge Advocate General's Corps, where she served as the Chief of Justice and a Special Assistant United States Attorney at Fort Meade, Maryland, and as a senior Defense Counsel at Fort Bragg, North Carolina. Ms. Molinelli obtained her B.A. from The University of Texas at Austin and her J.D. from the University of Houston.
About Lawyer's Protector Plan
The Lawyer's Protector Plan® (LPP®) program is designed for small to mid-sized law firms. The LPP program has specialized in providing professional liability insurance to lawyers since 1983 and currently serves over 7000 lawyers engaged in the private practice of law. The LPP performs multiple services on behalf of an exclusive insurance carrier partner including underwriting, marketing, website hosting, distribution management, policy issuance, risk management and claims handling.
The program can be accessed through retail insurance agents in Alabama, Arizona, Arkansas, California, Colorado, Connecticut, Delaware, Florida, Georgia, Idaho, Illinois, Indiana, Iowa, Kansas, Kentucky, Maine, Maryland, Massachusetts, Michigan, Minnesota, Mississippi, Missouri, Montana, Nebraska, Nevada, New Hampshire, New Jersey, New Mexico, New York, North Carolina, North Dakota, Ohio, Oklahoma, Pennsylvania, Rhode Island, South Carolina, South Dakota, Tennessee, Texas, Utah, Vermont, Virginia, Washington, Wisconsin, and the District of Columbia.
LPP® is a division of B&B Protector Plans Inc., which is a wholly-owned subsidiary of Brown & Brown, Inc. ("Brown & Brown"), a publicly held insurance intermediary whose stock is traded on the New York Stock Exchange, Inc. Brown & Brown is ranked as the seventh largest insurance intermediary in the United States by Business Insurance magazine.