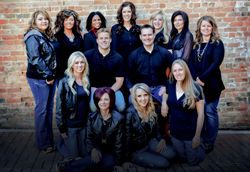 Layton, Utah (PRWEB) November 26, 2014
Davis and Weber Countys offer the perfect blend of small town feel with all the amenities of bigger cities. And that's the reason why Felt Family Dentistry likes to call Northern Utah home. Felt Family Dentistry is a collection of dentists that offer diverse services.
oral care
porcelain veneers
root canals
teeth whitening
tooth colored fillings
emergency dental care
Felt Family Dentistry uses the latest technology to provide customized treatment plans to prevent and diagnose oral health problems. Their latest technology expansion is in the form of the world wide web. To offer more direct communication outside of the office, Felt Family Dentistry recently launched a new website that is rich in oral hygiene information and ways for patients to communicate with staff.
Dr. David Felt DDS comments on the new website. "We're always looking for opportunities to increase communication with our amazing patients. Our latest website launch allows patients to communicate with us via their favorite social media outlet or to contact us to inquire about appointments. The ability for us to have an online presence 24/7 is priceless."
The website is not just new visually, but it is also an in-depth repository for patients to learn about proper oral hygiene. Felt Family Dentistry has launched an initiative to share hygiene tips and topics of discussions as frequently as weekly. Additionally, patients can discover a wealth of information on maximizing insurance benefits and financing options.
Dr. Jeremy Felt DDS remarks. "When we offer complimentary oral hygiene advice it is a win-win situation. By helping educate our patients it enhances their experience during in-office visits."
Felt Family Dentistry provides comprehensive dental services for patients of all ages via two locations - Roy and Layton. To inquire about Roy dental services call 801-774-9354 or to reach their Layton dentist call 801-546-0007 or visit FeltFamilyDentistry.com.