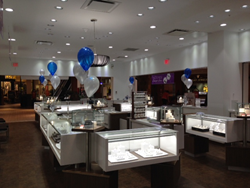 Layton Hills, UT (PRWEB) September 09, 2015
Schubach Jewelers, with parent company Samuels Jewelers and sister store brands Andrews Jewelers, Rogers Jewelers, and Samuels Diamonds, is proud to announce its newly remodeled location in Layton Hills Mall on September 4, 2015, and invites area residents to join the grand reopening celebration where the first 100 customers will receive complimentary jewelry.
Customers will be delighted with the store's new modern design that creates an inviting atmosphere. The store's new look, combined with the jewelry expertise of the store associates, provides customers with a great shopping experience.
In addition to store's new modern lines, customers will find significant enhancements in the store's energy efficiency and environmental sustainability. The store features high quality long life modern flooring, newly designed jewelry cases with modern indirect LED lighting, 60" Ultra HD flat-screen TVs, and innovative overhead energy efficient LED lighting.
"We are proud of our newly remodeled store and our continued presence in the Layton community," said Ajay Rai, CEO of Schubach Jewelers. "We invite you to join our grand reopening celebration so you can see for yourself how our new store design really highlights the beauty of our jewelry. And, as a gift for sharing our special event, our first 100 customers will receive a free Viola Italia ring!"
Schubach Jewelers will also hold its grand reopening ribbon-cutting ceremony with the Davis Chamber of Commerce on September 16, 2015 at 11:00 a.m.
Shop Schubach Jewelers and find directions to the store at http://www.samuelsjewelers.com/diamond-jewelry-layton-ut-720.html.