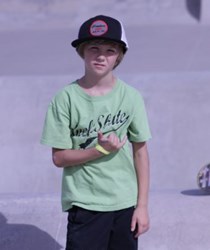 Lazer Crawford is one of the nicest kids you will ever meet
Glendale, AZ (PRWEB) December 11, 2013
LazerCrawford.com has been officially released so that fans of Lazer can keep up and hear of his recent activity. Crawford competes almost weekly and it is possible for anyone seeking updates on his incredible skills to follow him at http://www.LazerCrawford.com.
The new site features an about section, a skate pics and skate video section to see Crawford's latest moves. An awards section, a sponsor section and news and events to keep up on his latest travels.
Lazer Crawford, the 8 year old skateboard sensation from Arizona, has been skating since the age of 5 and has instantly had a prodigy-like connection with the creative sport of skateboarding. Veterans of the sport say Lazer Crawford could easily be one of the best skateboarders the world has ever seen. He has already found himself on podiums across the nation winning numerous 1st places and/or gold medals in almost every skate contest in his age division. His skateboarding style is known as relaxed & comfortable making the incredible tricks he performs look light, simplistic and natural. Lazer's amazing skills in the street, pool, park and half-pipe have made him a recognized diverse skater at such a young age. Lazer trains for 20+ hours a week at Kids That Rip Skate Park in Mesa AZ in addition to weekly visits to concrete parks and local streets around the valley. Lazer's success can be attributed to his love for the sport as well as his commitment and support of his amazing family, friends and sponsors. His passion, long hours of training, desire to be the best skater alive along with the dedication to school make the perfect recipe for a very bright future for this young, up and coming skateboard sensation!
Born: September 20th, 2005
Hometown: Glendale Arizona USA
Stance: Goofy Foot (Right foot forward)
Street Setup: Mini Freedom Board Shop Deck, Grape Grip (tape), 129 Independent Hollow Trucks, Bones Soft Bushings, 52 Bones Wheels, Bones Swiss Bearings
Bowl Setup: Mini KTR (Kids That Rip) Deck, Grape Grip (tape), 129 Independent Hollow Trucks, Bones Soft Bushings, 56 Bones Wheels, Bones Swiss Bearings
Vert Setup: Mini KTR Deck, Grape Grip (tape), 129 Independent Hollow Trucks, Bones Soft Bushings, 58 Bones Wheels, Bones Swiss Bearings