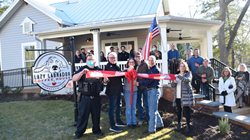 "We are excited about bringing our community together in a fun and cool place with really good coffee and an outdoor place where dogs can hang out with their owners." - Bob and Susan Milani, Owners, Lazy Labrador Coffee House
COLUMBUS, Ohio (PRWEB) February 22, 2022
On January 4, Cobb County coffee lovers gathered around Lazy Labrador Coffee House to celebrate the grand opening of the independent coffee shop at 2886 Cherokee Street NW. in the city's downtown historic district.
The day included $1 drink specials and a ribbon-cutting ceremony with local officials and partners.
"We had a wonderful time at our Grand Opening!" said Owners Bob and Susan Milani. "Special thanks to Mayor Easterling, City of Kennesaw officials and staff, our partners Crimson Cup and Bert & Boos, our barista staff and especially our patrons - for your warm welcome and support of our coffee house!"
The Milanis and their team learned how to open a coffee shop through the 7 Steps to Success coffee shop startup program of Crimson Cup Coffee & Tea, an award-winning coffee roaster based in Columbus, Ohio.
7 Steps Customer Growth Rep Heather Ciranna attended the grand opening to help ensure a successful event.
"It was a beautiful grand opening day," she said. "Such a joy to share this awesome milestone with the Milanis, their family and the community."
The Lazy Labrador opened November 19, 2021, in historic downtown Kennesaw.
But the story of this independent coffee shop began 30 years ago, when owners Bob and Susan Milani met on the streets of Olde Town Alexandria, Virginia.
Bob's black female Labrador Retriever, Bocce, struck up a friendship with Susan's blonde male Lab, Buddy. Soon, the dogs were inseparable. Their owners married in 1994.
A few years later, the Milanis moved to Kennesaw, Georgia. Bob worked as a medical device salesperson. Susan stayed at home to raise their two children.
Since then, their household has included five beloved Labs: Bocce, Buddy, Rosie, Cody and Kirby.
After retiring in 2020, Bob and Susan wanted to become more invested in their community. Soon, they discovered a revitalization plan for downtown Kennesaw.
The chief retail resource missing from the area? A coffee shop! Bob and Susan saw a way to serve the community by serving their favorite beverage.
A day later, they acquired a Queen Anne style home built in 1909. The Victorian-era building sits on a half-acre in the heart of downtown Kennesaw's entertainment and historic district.
Their vision: bring coffee lovers and canine fans together in a historic building with a working fireplace that offers outdoor seating, a fire pit, a wrap-around porch, and a dog park.
After an extensive 20-month historic renovation, the building is now a beautiful contributing property to Kennesaw's Historic District, which is on the National Register of Historic Places. Residents love its charm, and tourists are drawn to downtown because of its historic character and the Smithsonian affiliate museum across the street from the Lazy Labrador: The Southern Museum of Civil War and Locomotive History.
The Milanis named their shop Lazy Labrador after Kirby, who likes to sprawl lazily at his master's feet while Bob enjoys a delicious cup of coffee.
The only hurdle? The couple had zero experience in running a coffee shop.
"As we planned The Lazy Labrador, we tried six or seven different coffee roasters," Susan said. "We even signed a contract with one, but they didn't have a program to teach us to run a business."
Then they discovered Crimson Cup Coffee & Tea, a coffee roaster that offers a coffee shop startup system called 7 Steps to Success.
A one-stop shop for independent coffee shops, Crimson Cup supplies award-winning coffee, coffee business expertise, hands-on training and industry-leading coffee shop supplies.
"Having the consulting was the thing that clinched it for me," Bob said. "We broke the other contract to go with Crimson Cup."
"Knowing someone would be there to answer all our questions gave us the confidence to move forward."
Based on Seven Steps to Success: a Common-sense Guide to Succeed in Specialty Coffee by Founder and President Greg Ubert, this proven system turns entrepreneurs with little or no coffee experience into owners of thriving coffee shops.
To date, over 300 entrepreneurs in 30 states have followed the 7 Steps to create profitable coffee shops.
Crimson Cup's team of 7 Steps coffee shop startup consultants guides new owners through every step, from writing a coffee shop business plan to creating a marketing plan.
Susan found Step 5, Focus on Training, the most valuable. "Training is the key to helping us be successful."
7 Steps Trainer and Project Manager Steve Bayless helped the Milanis design the shop, then traveled to Kennesaw the week before the shop opened.
There, he taught Bob, Susan and their baristas to prepare drinks and run The Lazy Labrador, staying through opening day to ensure everything ran well.
The coffee and drink recipes, supplied by Crimson Cup, are winning positive feedback from Kennesaw coffee lovers.
"Our first customers had been in the industry for 10 years and were raving," Susan said. "They remarked how good the crema was on the espresso and how well foamed the latte was."
The coffee, roasted by Crimson Cup, ranks among the best in the nation. Among other honors, the roaster won 2020 and 2017 Good Food Awards, which recognize the country's best-tasting and most sustainably sourced coffees.
Asked what he would say to others who are thinking about opening a coffee shop, Bob offered this advice:
"Make sure you're well financed if you're doing a historical renovation. Feel very confident in the partner you selected with Crimson Cup. They follow through on what they say they're going to do, offer great products and have really solid experience."
Inside Lazy Labrador, guests enjoy a full menu of hot, cold and iced espresso-based drinks in a warm atmosphere with plenty of seating. Guests can also enjoy rocking chairs and the shade of magnolia trees while sitting on wraparound porch overlooking Cherokee Street and the Southern Museum.
The Milanis invite everyone in Kennesaw, Cobb County and beyond to visit Lazy Labrador Coffee House at 2886 Cherokee Street NW.
"We are excited about bringing our community together in a fun and cool place with really good coffee and an outdoor place where dogs can hang out with their owners," Bob said.
Follow the shop's Facebook and Instagram pages for news about hours and events.
About Crimson Cup Coffee & Tea
Founded in 1991, Crimson Cup is at the forefront of the coffee industry. Its attentive roasting, startup support and global partnerships are consciously designed for the greater good of communities around the world. Among other national recognitions, the company has earned 2020 and 2017 Good Food Awards, the 2019 Golden Bean Champion for Small Franchise/Chain Roaster and Roast magazine's 2016 Macro Roaster of the Year.
Crimson Cup travels the world searching for the perfect cup – driven by meaningful relationships, honesty and a shared vision for the future. Its Friend2Farmer initiatives foster respect and decency through mutually beneficial collaboration across local and global communities.
Through its 7 Steps to Success coffee shop startup program, the company teaches entrepreneurs to run independent coffee houses in their local communities. By developing a coffee shop business plan, entrepreneurs gain insight into how much it costs to open a coffee shop.
Crimson Cup coffee is available through over 350 independent coffee houses, grocers, college and universities, restaurants and food service operations across 30 states, Guam and Bangladesh. The company also owns five Crimson Cup Coffee Houses and a new CRIMSON retail flagship store. To learn more, visit crimsoncup.com, or follow the company on Facebook and Instagram.