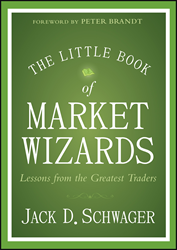 Together, these lessons provide a blueprint for any trader that hopes to one day be a 'Market Wizard.'
(PRWEB) March 03, 2014
Wall Street is populated by countless ambitious traders hoping to make a fortune by beating the market, but only a handful get to call themselves "Market Wizards." This term, coined by hedge fund expert Jack D. Schwager more than 25 years ago, has been a part of a best-selling series of books featuring interviews with today's greatest hedge fund managers, including Ray Dalio, Stanley Drunkenmiller, Joel Greenblatt, Paul Tudor Jones and Colm O'Shea.
In THE LITTLE BOOK OF MARKET WIZARDS: Lessons from the Greatest Traders (WILEY; February 2014; Hardcover & eBook; $17.09), Schwager combines the lessons learned from the world's best traders into one, easy-to-digest volume. This book looks into the mindset and habits of highly successful traders, providing insights and tips that all traders can use to improve their results. Schwager also shares his own experience as a futures trader, as well as perspectives gleaned from three decades spent interviewing industry titans.
Peter L. Brandt, a legendary commodities trader, writes in the foreword: "What novice and aspiring market speculator would not want to spend time with and pick the brains of 59 of the world's most successful and accomplished market speculators? That is exactly what Jack Schwager's Market Wizards books offer, bringing to us all the insights, processes of market operations, risk management principles and key lessons from "Hall of Fame" stock, interest-rate, forex, and futures market speculators."
Schwager identifies what separates highly successful market practitioners—the Market Wizards—from ordinary traders. Each chapter in his book focuses on a specific theme essential to market success and describes how all market participants can benefit by incorporating various proven traits, behaviors and philosophies into their own trading.
These themes include:

Don't be afraid to make a mistake. Each mistake, if recognized and acted upon, provides an opportunity for improving a trading approach.
Pick a trading style that matches your personality. A sound methodology that is very successful for one trader can be a poor fit and a losing strategy for another trader.
If you're confident in a position, bet big. If you're not, bet small. Estimate the probability of success and bet accordingly.
Don't focus on making money, focus on protecting what you have. Sometimes just doing nothing can be the best strategy if the market doesn't present favorable opportunities.
These themes are particularly sentient today, at a time of great change for the hedge fund industry. As alternative investing strategies become available to a larger pool of investors through the proliferation of liquid alternatives, ETFs and online trading, competition in the alternative investment industry will become fiercer than ever. Traders who want to succeed and avoid making mistakes would do well to follow the lessons compiled by Schwager in The Little Book of Market Wizards.
Together, these lessons provide a blueprint for any trader that hopes to one day be a 'Market Wizard.'
About The Author
JACK D. SCHWAGER is a recognized industry expert in futures and hedge funds and the author of a number of widely acclaimed financial books. He is currently a principal of PortfolioFit (portfoliofitadvisors.com), an advisory firm that specializes in constructing tailor-made futures and FX managed account portfolios, and the co-portfolio manager for the ADM Investor Services Diversified Strategies Fund, a portfolio of futures and FX managed accounts. Mr. Schwager is also one of the founders of Fund Seeder (Fundseeder.com), a platform designed to find undiscovered trading talent worldwide and connect unknown successful traders with sources of investment capital.
Mr. Schwager is the inventor of the Jack Schwager Commodity Index (JSCI) family, a set of dynamically adjusted commodity indexes that incorporate spread structure, systematic inputs, and volatility-based risk adjustments. The indexes are scheduled to be launched in early 2014 in cooperation with Aquantum AG and UBS.
Mr. Schwager is the author of: Market Wizards (1989), The New Market Wizards (1992), Stock Market Wizards (2001), Hedge Fund Market Wizards (2012) and Market Sense and Nonsense (2012). He is also the author of the three-volume Schwager on Futures series and Getting Started in Technical Analysis.