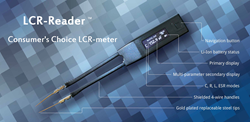 LCR-Reader quickly becomes a consumer's choice LCR-meter due to its quality, ease-of-use and low price.
Waterloo, Ontario (PRWEB) October 01, 2013
Newly released web sites for LCR-Reader, akin to Smart Tweezers LCR-meter presented by Siborg Systems Inc., introduces new instructional materials and useful user tips for the new model of a popular electronic LCR-meter in English and Russian.
It is manufactured in Canada, PCB made in Mississauga and the device assembled in Waterloo, Ontario. It is getting lately more and more popular worldwide. This fully-automatic digital LCR-meter makes measurements by just touching any electrical component, either resistance, capacitance or inductance with a high 1% basic accuracy.
Unlike other clones lately available, the original LCR-Reader can measure not only resistance and capacitance but also inductance of a fraction of microhenry, making it an indispensable tool for use in radio electronics.
"The new multilingual web sites will give international users a better feeling of what this new device is capable of," says Michael Obrecht, Director at Siborg Systems Inc. "Light weight and small size make LCR-Reader™ extremely useful for any kind of PCB work, especially if you do it on a trip. It is very important that the device is very user-friendly and intuitive. It is almost fully automatic and evaluate a component, whether it is C, L or R immediately when it is touched with the tweezer tips."
Siborg Systems Inc. currently offers Introductory Sale Price for LCR-Reader™.
LCR-Reader is the latest arrival in Smart Tweezers' family. The new model has a record low weight and size, and priced below $200 to target consumer market. This new design maximizes operation simplicity and ease-of-use complimented with affordable price while still keeping high 1% basic accuracy.
"We are very happy with the new device. Customer satisfaction is our main priority," says Michael Obrecht, Director of Research and Development at Siborg Systems Inc. "Therefore we took additional measures to ensure high measurement accuracy of the LCR-Reader before we start mass production of this model. Basic accuracy of 1% was our target and we eventually have been able to achieve it."
Follow the latest LCR-Reader developments at Smart Tweezers LCR-meter Blog.
The first to own LCR-Reader, call today to pre-order and get 20% discount. A detailed comparison of features of the LCR-Reader and previous models is presented in the Smart Tweezers Comparison Table.
LCR-Reader Feature Summary:
Automatic LCR and ESR measurement
Basic accuracy of 1%
Best range selection
Li-Ion battery with a micro-USB connector
About 1 Oz weight
About Siborg Systems Inc:
Established in 1994, Siborg Systems Inc. is a source of engineering software and hardware tools for semiconductor and electronics industry. Located in the city of Waterloo, Ontario, Canada, it enjoys being part of the local world-renowned high-tech community.
For more information: Siborg Systems Inc, 24 Combermere Crescent, Waterloo, Ontario N2L 5B1, Canada
Tel: 519-888-9906
Toll Free: 877-823-7576
Fax: 519-725-9522
Web: http://www.lcr-reader.com