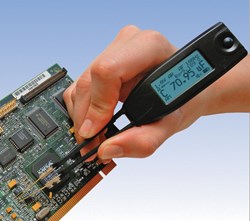 Smart Tweezers allow to quickly characterize small SMT components whenever you need it.
Novosibirsk, Russia (PRWEB) July 31, 2013
Smart Tweezers is a world renowned LCR-meter that gives an easy way of testing and trouble-shooting Surface Mount Devices. Surface-mount technology (SMT) is now a conventional method for electronic manufacturing where the components (Surface Mount Devices) are mounted onto the surface of printed circuit boards (PCBs).
SMT components are small and have very small contacts and they are too small to be labeled. Thus, it is easy to lose track of parts and their values. Smart Tweezers allow with the use of only one hand to quickly evaluate all passive types of SMT components, such as Resistors, Capacitances and Inductances. It is a widely recognized professional quality LCR-meter that determines the type of component, and the proper range and signal frequency for the highest accuracy measurement.
"Smart Tweezers gives an ability for a quick and highly accurate evaluation of SMT components," says Michael Obrecht, R&D director at Siborg. "For model ST5 the basic accuracy is about 0.2%. Our goal in this project was to reduce cost of the required components and PCB complexity and therefore manufacturing cost of the device."
Two approaches have been taken aiming the cost reduction: traditional Smart Tweezers approach using sinusoidal small-signal test and a response of the measured device to a voltage step signal. The first method has eventually lead to the LCR-Reader that had been released last June.
The second approach results in a very simple circuit and gave reasonable results for some range of LCR values but much limited compared to LCR-Reader.
"We had a limited success in implementing the step voltage approach," says Valentin Litvintsev, Team Lead at the Institute of Automation and Electrometry of the Russian Academy of Sciences, Novosibirsk, "It might be a better solution to combine both methods in one device and thus improve the device functionality."
About Siborg Systems Inc:
Established in 1994, Siborg Systems Inc. is a source of engineering software and hardware tools for semiconductor and electronics industry. Located in the city of Waterloo, Ontario, Canada, it enjoys being part of the local world-renowned high-tech community.
About Institute of Automation and Electrometry:
Founded in 1957 among the first institutions of the Siberian Branch of the Russian Academy of Sciences.
Main research directions: Optics and laser physics, Interaction of the radiation with structured materials, Systems architecture, mathematical models and software for data processing image recognition, analysis and representation of information and control systems for complex dynamic processes.
Contact:
Academician Koptug ave. 1, Novosibirsk, Russia, 630090
Tel.: +7 (383) 330-1239
Fax: +7 (383) 333-38-63
For more information:
Siborg Systems Inc, 24 Combermere Crescent, Waterloo, Ontario N2L 5B1, Canada
Tel: 519-888-9906;
Fax: 519-725-9522;
Web: http://www.siborg.com/smarttweezers