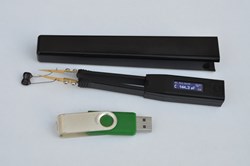 The new model LCR-Reader of the Smart Tweezers family is targeting consumer market.
Hanoi, Vietnam (PRWEB) September 26, 2013
Canadian Siborg Systems Inc. and Hanoi based Indochina Equipment & Accessories Joint Stock Company have agreed to join their efforts in marketing devices of Smart Tweezers LCR-meter family including the latest budget model LCR-Reader in Vietnam.
Indochina JSC is a known supplier in south-eastern Asia specializing in supplying equipment and spare parts for various industries using heavy machinery.
"In a modern world all machines use Printed Circuit Boards (PCBs) with a high density of Surface Mount Devices (SMD)," says Mr. Tam, CEO at Indochina JSC. "A few of our clients approached us with a request to procure Smart Tweezers LCR-meter which is an indispensable tool for PCB repair."
LCR-meter ST-5 and its successor LCR-Reader were designed mainly for measuring SMT components that can be as small as 0201 form-factor which is about 0.3 mm. Smart Tweezers measure both the real and imaginary impedance components. This allows the instrument to measure in addition to the capacitance, equivalent series resistance (ESR) or dissipation factor D, in addition to inductance, resistance or Q. ST-5 can also be used for a diode and continuity test.
The new model, LCR-Reader, is almost twice as light as previous Smart Tweezers models, powered by Li-Ion rechargeable battery with a micro-USB connector port. Basic accuracy of the new device is about 1% which exceedes specs for models ST-1, ST-2 and ST-3. It is controlled by one button that turns the device on and changes the operation mode by a single button push: A (Automatic), R (Resistance), L (Inductance), C (Capacitance), and ESR (Equivalent Series Resistance). It makes fully automatic measurements, test signal amplitude is 0.5 Volts, test frequency is adjusted depending on the component type and value. Alike Smart Tweezers, LCR-Reader measures the main impedance component L, C or R and also parasitics, such as R for L, C.
On a picture to the right is a screen showing measurement of an inductance, where AM shows that the measurement mode is Automatic Mode, Rs specifies parasitic series resistance of the inductor, 10 kHz is the test frequency, L shows that the component measured is an inductance, 104.8 uH is the inductance in micro-Henrys, and the battery sign indicates the battery charge level.
Compared to ST-5 the following features are not available: automatic offset correction, component sorting, diode and continuity test. The most important drawback of LCR-Reader is the level of test signal which is 0.5 V rms that does not allow to use it for ceramic capacitors, similarly to ST-1, ST-2 and ST-3 it gives a lower value of the capacitance.
Currently Siborg Systems Inc offers a sale price for LCR-Reader until the end of October.
You may also watch a brief demonstration of LCR-Reader on Youtube.
A detailed comparison of features of the LCR-Reader and previous models is presented in this Smart Tweezers Comparison Table.
Feature Summary
Automatic measurement of Inductance, Capacitance, Resistance and ESR
Basic accuracy of 1%
Automatic selection of the best range
Lithium-Ion battery and USB charger connection port
Weight of 28 gramms (1 oz)
For more information please refer to Smart Tweezers Manual. Latest news are available in our Smart Tweezers Blog. For previous developments please refer to Smart Tweezers Retrospective.
About Siborg Systems Inc:
Established in 1994, Siborg Systems Inc. is a source of engineering software and hardware tools for semiconductor and electronics industry. Located in the city of Waterloo, Ontario, Canada, it enjoys being part of the local world-renowned high-tech community.
About Indochina JSC:
Indochina Equipment & Accessories Joint Stock Company, was established in 2009 by experienced members in Vietnam market and based on strategic relationship with top construction machinery manufacturing groups in the world. We are now one of the top Vietnamese companies specialized in supplying equipment and spare parts for transportation, construction, coal mining industries, industrial zones, ports, environment,….
Besides, in order to meet customers' demand, we also supply used machines directly imported from China, Korea, Japan, America and European countries.
Under the leadership of board management together with creativeness and enthusiasm in team working environment of our staffs who always make best efforts for the company's development, we have formed the prestige towards investors, customers in domestic and from oversea. Our trading products have been presenting in many important projects of the country.
Indochina Equipment & Accessories Joint Stock Company
Address: No.1 - LK6B, MoLao Urban, HaDong Dist, Hanoi, Vietnam
Tel: (+84) 4-7.303.5666
Fax: (+84) 4-7.303.4666
E-mail: info (at) indochina-vn (dot) com