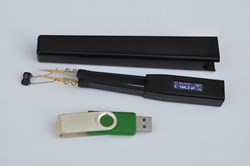 The lightest and the smallest, affordable LCR-meter
Munich, Germany (PRWEB) October 31, 2013
After more than a year of research and development and a few months of debugging and fine-tuning, the new member of the Smart Tweezers family, the LCR-Reader was released in September.
The first few batches of LCR-Readers have been recently shipped to Bokar International in the USA, VanDevice Ltd. in Japan, Sanata-Tech in Russia, and Advance Tech in India.
"We are not sure how popular the new device will be," says Czes Rusowsky, the CEO at Bokar International. "It is always hard to predict the market. But we are hearing good responses from our European distributors and therefore we are going to present LCR-Reader at Produktronika in Munich in November. Meet us at KIT Kroschewski Industrie Technik GmbH Booth number 532, Hall A4, Messe München, to see a quick LCR-Reader and Smart Tweezers ST-5 Demo."
LCR-Reader is the latest device in Smart Tweezers family of LCR-meters. The new design has a record low weight and size, as well as low price at the same time. This new model maximizes operation simplicity and ease-of-use; complimented with an affordable price while still keeping high basic accuracy of about 1%.
LCR-Reader Feature Summary:

Automatic LCR and ESR measurement
Basic accuracy of 1%
Best range selection
Li-Ion battery with a micro-USB connector
About 1 Oz weight
LCR-Reader is not replacing Smart Tweezers ST5 which still remains the model of choice for professionals. Unlike LCR-Reader, the ST5 is supplied with a Calibration Certificate traceable to National Institute of Standards required by all major electronic companies. Besides, ST5 has a significantly higher accuracy of about 0.2% and various features that are not available on the LCR-Reader.
The following ST5 features are unavailable in LCR-Reader:

Component Sorting
Automatic offset adjustment
Open Circuit/ Continuity/ Diode/ test
"We are very happy with the LCR-Reader performance and affordability. We hope that the new device will be the LCR-meter of choice for regular consumers" says Michael Obrecht, Director of Research and Development at Siborg Systems Inc. "Therefore we optimized the design to ensure high measurement accuracy and low manufacturing cost before starting production of this device. We have achieved the basic accuracy of 1% while still keeping its suggested retail price below $200 mark."
Follow the latest LCR-Reader developments at Smart Tweezers LCR-meter Blog.
Watch LCR-Reader assembly video at Youtube.
A comparison of features of the LCR-Reader and previous models is presented in the Smart Tweezers Comparison Table.
About Siborg Systems Inc:
Established in 1994, Siborg Systems Inc. is a source of engineering software and hardware tools for semiconductor and electronics industry. Located in the city of Waterloo, Ontario, Canada, it enjoys being part of the local world-renowned high-tech community.
About Bokar International:
Bokar International produces and sells an innovative type of SMT (Surface Mount Technology) Rework, Repair and Assembly tools and equipment. Bokar has developed a full line of such equipment and accessories, and is developing several new, more sophisticated models. Bokar International and its European Partner Production Solutions supply the newest generation of American and Japanese SMT Rework, Repair and Assembly equipment. Specialists from Motorola, Nokia, Felextronics, Philips and all main producers of communications systems and other electronic devices appreciate high quality and reliability of these products.
High tech customers include Lockheed Martin, Intel, Boeing, Apple, US Army etc.
For more information please contact:
Czeslaw Ruszowski, CEO
Bokar International, Phone: 570 842-4725
Fax: 570 842-4290, czes(at)bokar(dot)com
About KIT:
Kroschewski Industrie Technik GmbH is specializing in Repair and Rework, Hand Tools, ESD protection, Suction / filtration, Thermal Profiling, Soldering, Dosing / dispensing, Test Equipment.
For more information please contact:
Boris Kroschewski, Managing Director
Bieberer Str. 153, 63179 Obertshausen, Germany
Phone +49 6104 9501-0, Fax +49 6104 4499-1
Info (at) kitgmbh (dot) de
About Van Device, Ltd:
Established in 1999, the company offers microchips, electronic components, computer parts and peripherals. It primarily offers imported products to Japanese clients. The company also offers unique test equipment for for PCBs, fiber optics and computer networks and inspection solutions.
For more information please contact:
Van Device Ltd.,
9-10-202 Nihonbashi Kobunacho
Chuo-ku TOKYO, 103-0024 JAPAN
Tel +81-3-5652-2888
Fax +81-3-5652-2889
Contact:Fumio Iwamoto
iwa (at) vandevice (dot) co (dot) jp
About Advance Tech Services:
The company was established in 1996. Their main target is Electronics in various industries, including Telecom, Defence, Health Care, Automotive, Space, Consumer Electronics and Electronics maintenance in Processing Plants. With Headquarters Office in New Delhi and branch offices in Banglore, Pune, Mumabai and Hyderabad the Company can quickly and efficiently serve virtually any city in India. Among various product categories that ATS carries, to name a few, are: soldering/desoldering solutions, screw assembly solutions, ESD clean room and ESD solutions, dispensing solutions, mold gate cutting tools, chemicals.
For more information: Advance Tech Services Pvt. Ltd., Head Office (Delhi)
709-710, GD-ITL Towers, B-8, Netaji Subhash Place, Pitampura, New Delhi - 110034 India
Phone: +91-11-47002024, Fax: +91-11-47002029
Branch Office (Bangalore)
507, A-wing, 6, Mittal Tower, M. G. Road, Bangalore - 560001 India.
Phone: +91-080-25327460, 30521154, Fax: +91-080-25327454
Branch Office (Pune)
A-602, 5th Floor, Mega Centre, Pune - Solapur Road, Hadapsar, Pune - 411028 India.
Phone: +91-020-30421603
About Sanata-Tech:
Established in 2009, Sanata-Tech supplies soldering and rework equipment (Hakko), electrical test equipment and office furniture and hand tools (Viking).
For more information, please contact:
Natalia Petrova, CEO
Sanata-Tech, Ltd.
22 Zvenigorodskaya Street, Unit 051
Tel.:+7 (812) 983-94-50, 917-85-84
Fax:+7 (812) 712-34-00
Email: natalya(at)sanata-tech(dot)ru