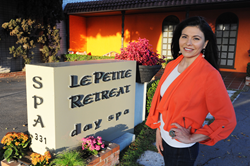 Los Angeles, California (PRWEB) June 03, 2014
As the new CEO of Le Petite Retreat Day Spa in Larchmont Village, Tina Figueroa hopes to use her background as a global Fortune 500 and technology start-up executive to transform the award-winning day spa into the go-to spot for rejuvenation and relaxation in Los Angeles.
In her 15 years as an HR executive for a series of global firms and tech start-ups, Tina travelled the world managing thousands of employees in multiple countries. She dealt with the stress of the job by visiting spas throughout Europe, South America and Asia, sampling a variety of spa treatments, from Ayurvedic detoxification therapies to Hungarian moor mud masks.
When Le Petite Retreat Day Spa became available, Tina decided it was the perfect time to create a new space for Angelenos to experience a unique menu of spa treatments from around the world. After taking ownership in early March, she began working with staff to expand the services to incorporate Ayurvedic, European, Chinese and other healing practices into the treatment offerings.
"I think that by adding techniques that have been developed over hundreds if not thousands of years, we can provide something that isn't available anywhere else in a spa environment," explains Figueroa.
In addition, Tina is upgrading the spa environment to give the 13-year old business a fresh feel and focus with an eco-friendly remodel. This includes energy-efficient appliances, LED lighting, low VOC paint and a switch to microfiber linens. The bungalow housing the spa sits in a prime location on charming Larchmont Boulevard, and its center of the city location draws frequent clientele from nearby Paramount Studios and other local businesses catering to the film industry.
Tina plans to become an active member of her Larchmont Village community, and her goal is to turn Le Petite Retreat Day Spa into a premier destination for those who live in and visit this quaint and historical neighborhood. "I want to create a space with integrity that feels warm and welcoming," says Figueroa. "And I love the idea of giving the community a spa within walking distance where they can meet friends or just take some time for themselves without having to get in the car and drive for miles."
Le Petite Retreat Day Spa is open every day of the week except Tuesday, closing at 9 p.m. on Wednesday through Friday to provide late in the day appointments to busy Angelenos. The spa offers couples treatments, including a champagne bath for two in a bubbling Coppertub and packages with mix-and-match offerings. Appointments are available online or by calling 323-466-1028.