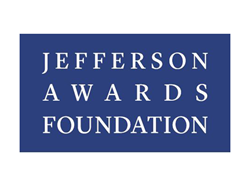 LEAD360 exemplifies the power of young people by supporting their ideas for public service and bringing them to a national audience
New York, NY (PRWEB) January 05, 2016
The Jefferson Awards Foundation, the nation's most prestigious and longest-standing organization dedicated to powering and celebrating public service, announces its call for entries for its 2016 LEAD360 service ideas contest. In 2015, the LEAD360 Ideas Contest awarded three students with the opportunity to scale, empowering them to reach more than 7.7 million people in nine months of activation.
LEAD360 is a platform for simple, fun and scalable service designed to offer accessible projects while measuring and celebrating impact. Open to young people between the ages of 5-25, LEAD360 begins by collecting big ideas for social change. Once submitted for consideration, the Jefferson Awards Foundation will announce the top three projects in March at their National Ceremony in New York City, which will then be activated nationally. Additionally, finalists will be equipped with resources and leadership necessary to scale their ideas.
Youth service project ideas for the LEAD360 Ideas Contest will be accepted online through January 31, 2016 at LEAD360.jeffersonawards.org. This year, there are 10 actionable areas of care for young people to submit ideas to:
● Animal Care & Wildlife Preservation
● Civic Engagement & Community Building
● Education & Literacy
● Elder Care
● Environment & Sustainability
● Health & Wellness
● Hunger & Poverty
● Infrastructure & Innovation
● Peace & Justice
● Veteran Care
"LEAD360 exemplifies the power of young people by supporting their ideas for public service and bringing them to a national audience," said Hillary Schafer, Executive Director of the Jefferson Awards Foundation. "Each year we are amazed at the ingenuity and resourcefulness of the young people who enter the challenge, creating change not only in their communities but around the world."
The submissions for LEAD360 will be voted on in February through a process of regional, national and online voting to determine the top three youth service project ideas that will be activated on a national level by the Jefferson Awards Foundation throughout the remainder of 2016.
In 2015, LEAD360 considered over 5,000 youth projects, engaged over 1 million young people, and impacted over 7.7 million lives. Last year's finalists were considered in the categories of health and wellness, education and literacy and hunger and poverty.

Brittany Amano's The Future Isn't Hungry collected 305,000 bags of food—exceeding her goal of 250,000 and attracting the support of local and national activation partners including Food Lion, generationOn, Blessings in a Backpack, Hawaii Food Bank and more.
Wesley Boone's Gear Going Global tracked 275,000 pieces of sports equipment for kids in 3rd world countries and partnered with Rustic Pathways, One World Play, New York Giants, Indianapolis Colts & Indians and Wes received over $100,000 in scholarships.
Patricia Manubay's BIG IDEA for Dream Boxes resulted in care packages for 48,000 low-income students and attracted national activation partners from Family Giving Tree, KIND Snacks, and New Haven Reads.
Submissions for 2016 will be accepted through January 31, 2016. Ideas submitted after January 2016 will be considered for the 2017 Ideas contest.
About LEAD360
LEAD360 starts with collecting BIG ideas from young people for social change, asking kids what they care about and how they would fix it. JAF then takes the three best ideas, breaks them down into easy-to-do and replicable projects and makes them available to anyone to activate. Through activation, JAF also identifies individuals and organizations already active in each project area to aggregate and celebrate their impact. To learn more about LEAD360, visit: Lead360.JeffersonAwards.org.
About the Jefferson Awards Foundation
The Jefferson Awards Foundation is the country's most prestigious and longest standing organization dedicated to powering and celebrating public service. JAF's programs accelerate and amplify service, training and activating Americans to take action, and to be leaders in schools, communities, workplaces and the world. With celebration, JAF says thank you, shares the stories of America's best citizens, empowering them to do more and inspiring all to take action. To learn more about the Jefferson Awards Foundation, visit: JeffersonAwards.org or engage with our community on Instagram, Twitter and Facebook.