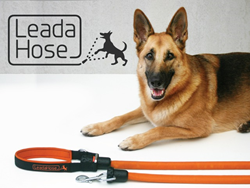 Wilma, our German Shepherd, was the inspiration for this product. She has a knack for finding the muddiest puddles and I hated having to constantly carry a hose. Then it hit me, 'Wouldn't it be convenient to have a hose in a leash?'
SYDNEY (PRWEB) August 12, 2014
LeadaHose, a dog leash that doubles as a hose, launched a crowdfunding campaign on Kickstarter on August 12. The campaign hopes to raise $20,000 for the product's mass production and global distribution. LeadaHose is the only product of its kind on the market right now. What makes it unique is that it can seamlessly transition from dog leash to hose, simply by connecting one end to any standard tap.
LeadaHose is a leash invented for imperfect dogs and the owners that love them anyway. It allows dogs the freedom to play without the worry of them tracking dirt and mud through cars and houses. After a messy day, simply spray off the dog with the hose and after a short walk, dogs are clean, dry and ready to play again. So relax and let dogs do all the activities they love and still return home clean and mess free.
"Wilma, our German Shepherd, was the inspiration for this product," said Cameron Morton, inventor of LeadaHose. "She has a knack for finding the muddiest puddles and I hated having to constantly carry a hose. Then it hit me, 'Wouldn't it be convenient to have a hose in a leash?' Which led me to invent the LeadaHose. After friends and family started asking for their own LeadaHose, I realized I had a really cool product on my hands."
Because LeadaHose attaches to any spigot, it's the perfect accessory for any day at the park. Overheating is a huge issue with dogs during hot months. With LeadaHose it's easy to prevent dogs from overheating. The adjustable spray nozzle works to control the water pressure, from a light spray for dogs that don't love water, to a powerful jetstream for extra messy situations.
LeadaHose is offered in a bright orange color and standard training length (1.8 meters/ 6 feet) and is compatible with any spigot and collar. It's made with a flat nylon hose with a flexible, waterproof lining. The hanging strength has been tested up to 75kg (165lbs).
LeadaHose will begin their Kickstarter campaign August 12. Donations begin at just $1 and for as little as $25, backers can ensure they receive their very own LeadaHose. To learn more about Cameron and LeadaHose, click here.
ABOUT LEADAHOSE
LeadaHose is an Australian company run by Cameron Morton and his dog, Wilma. Based out of Sydney, these two work together to make innovative products that make life easier for dogs and their owners. Cameron and Wilma love long walks in the park and full days on the beach. They hope to continue creating products that allow dogs to be dogs and humans to best care for them.