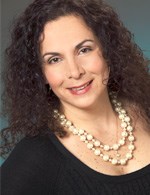 We believe that Gabriela Herrero is a perfect fit for Leaders Edge. Her passion for helping people matches ours, and the experience that she brings to the table makes her an ideal complement to our team. - Joanne Trotta
Toronto, Ontario (PRWEB) November 13, 2013
Leaders Edge, Inc., a leadership development and consulting firm, is pleased to announce that Gabriela Herrero has joined the company as its newest team member. Gabriela has international expertise in leadership development, as well as executive and team coaching where professional opportunities brought her to Asia, Canada, Europe, Middle East, North and South America. She is a Certified Professional Co-active Coach (CPCC), with her certification acquired from the Coaching Training Institute, and is a member of the International Coaching Federation (ICF). Gabriela will be the lead Associate for business development and facilitation of Leaders Edge programs in Latin America in both English and Spanish.
Gabriela Herrero was raised in Mexico and has traveled extensively throughout the world. Her passion for travel, culture and connecting with people has guided her over the course of her life both personally and professionally. Gabriela has lived in numerous countries including France, Spain, Mexico and Canada, plus she has worked with people and organizations from the Americas to Asia and everywhere in-between. As the newest member of the Leaders Edge team, Gabriela will use her passion to help the company grow, particularly in the Latin American, Spanish-speaking market.
As Certified Professional Co-Active Coach (CPCC), Gabriela is able to work directly alongside business leaders to help grow their companies and inspire them to improve employee engagement and individual accountability within their organizations. She brings a unique combination of coaching abilities and multicultural experience to the table, which will allow Leaders Edge to expand their reach in different countries with unique cultures and languages.
Gabriela Herrero has also survived cancer. Rather than treat her cancer experience as a dark time in her life, she sees her encounter with the disease as a constant reminder to live life full-out while working with passion and integrity. To her, cancer was not an obstacle; it was an opportunity for growth. This positive outlook shapes everything that she does, and it will allow her to add tremendous value to the Leaders Edge team.
"We believe that Gabriela Herrero is a perfect fit for Leaders Edge. Her passion for helping people matches ours, and the experience that she brings to the table makes her an ideal complement to our team." - Joanne Trotta, Managing Partner, Leaders Edge, Inc.
"Gabriela's experience with cultural diversity and coaching will serve as additional strengths to our team. It is also our shared passion to make a difference for people and organizations that aligns us well and positions us for greater success." - Nazim Jamal, Managing Partner, Leaders Edge, Inc.
Key facts:

Gabriela Herrero has joined the Leaders Edge team as Lead Associate for Business Development & Facilitation in Latin America.
Gabriela earned her Masters degree in International Business.
She has a passion for working with and helping others.
Her language expertise will help Leaders Edge expand into the Spanish-speaking market.
Gabriela's background, experience, expertise and passion make her a perfect complement to the Leaders Edge team.
About Leaders Edge, Inc:
Leaders Edge, Inc. is a leadership development and consulting company based in Toronto, Ontario Canada. The company uses its unique approach to help businesses achieve results by improving employee engagement through individual accountability. Leaders Edge is also Canada's exclusive provider of leadership training from The Living Leader, Inc., which has developed a number of proven, globally recognized programs.
Contact information:
http://leadersedgeinc.ca
contactus(at)leadersedgeinc(dot)ca
855-871-3374