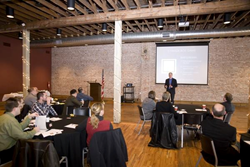 Springfield, MO (PRWEB) February 25, 2014
People Centric Consulting Group offers a workshop series called Leadership Mastermind on the third Friday of each month from 7:30 to 9:30 a.m. 425 Downtown on Walnut Street in Springfield, Missouri.
Participants will learn about the People Centric approach to leadership and how it can improve business. In addition to learning from People Centric business coaches, local business leaders are able to discuss leadership topics with peers.
Don Harkey, co-founder of People-Centric Consulting Group, leads the Leadership Mastermind meetings. He has 10 years of engineering and people systems experience at Fortune 500 companies and helps clients learn how to solve problems. He presents information clearly with humor referring often to his favorite saying, "Passion is Productive!"
This monthly group meeting is a dynamic way to learn about new leadership skills and ways to implement them. Leadership Mastermind topics have included: Vision and Mission, SWOT Analysis, Use of Metrics, Personalities, Running Good Meetings, Unique Value Propositions, Strategic Partnerships, Value Ladders, Opportunity Cost, Time Management, Motivation, Change, Generational Issues, Coaching, and Mentoring.
Register online at http://www.peopleccg.com/events/leadership-mastermind. For more information call 417-887-6760 or use the email contact form on the website. Single event registration or membership plans are available.
About People Centric Consulting Group
Don Harkey and Randy Mayes created People Centric Consulting Group "to support leaders in creating and building healthy organizations where people can live and work within their core strengths and passions with clarity and purpose." They achieve this mission by helping business owners and entrepreneurs uncover their own passion and purpose in business and translate it into action believing that profitability and productivity follow clarity and purpose. People Centric Consulting Group offers a variety of services to help small and mid-sized business owners in the Springfield Missouri area achieve growth and prosperity in their business including Business Analysis, Executive Coaching, Leadership Development, Strategic Planning and Business Systems Development. In a few short years, they have grown to be one of the most respected boutique management consulting firms in Springfield MO.
Contact
Don Harkey or Randy Mayes
http://peopleccg.com
People Centric Consulting Group
1031 E Battlefield Ste 215
Springfield MO 65807
(417) 459-2887