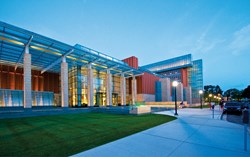 Ann Arbor, MI (PRWEB) January 17, 2014
The University of Michigan's Ross School of Business released a new video today outlining research on simple, but effective steps supervisors and managers can take to become better leaders.
According to research from Sue Ashford, Professor of Management and Organizations, the manner in which and the frequency with which leaders ask for feedback can be one of the most effective ways to improve job performance, employee morale, and overall job satisfaction among staff.
She and Scott DeRue, who is Professor of Management as well as Director of the Ross Leadership Initiative and Faculty Director of the Emerging Leaders Program, are renown experts in the fields of leadership development, management, team performance and organizational change. Each teach courses on these topics for students and executives through the Ross School of Business. This most recent research is covered in a new book DeRue co-edited called Experience-Driven Leader Development.
Visit the Ross Thought in Action section of the Michigan Ross website at http://www.bus.umich.edu to learn more about Ross faculty and research from leading minds in the fields of business management, marketing, leadership, supply chain management, networks and more.