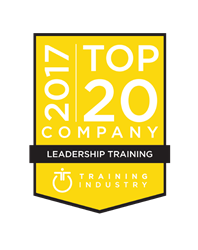 Hemsley Fraser - A top 20 company worldwide for Leadership Development (2010 – 2017)
Washington, DC (PRWEB) February 02, 2017
TrainingIndustry.com continuously monitors the leadership training marketplace and it publishes an annual ranking of the world's top 20 providers. This year's selection criteria comprised: thought leadership and influence within the leadership training industry; industry recognition and innovation; breadth of programs and range of audiences served; delivery methods offered; company size and growth potential; quality and number of clients; geographic reach and experience serving the market.
Ken Taylor, President of Training Industry Inc, said: "The companies selected for the 2017 Top 20 Leadership Training List are meeting ever-evolving leadership development needs, including the importance of communication and coaching in the workplace, with an increased focus on the impact and outcomes of their programs. Our Top 20 list is designed to help buyers of leadership training make informed decisions when searching for the right training partner."
Doug Harward, Chief Executive Officer of Training Industry Inc, added: "The Top 20 Leadership Training Companies have demonstrated tremendous innovation in the use of learning technologies to enhance the learner experience. Hemsley Fraser demonstrated excellence in every aspect of leadership development."
Todd Turner, Chief Executive Officer of Hemsley Fraser, said: "We're delighted to be one of the very few companies that have been ranked in this prestigious leadership training list every year since its inception in 2010. This recognition confirms our ability to deliver engaging and inspirational leadership development experiences. It also acknowledges the impact that our investment in new learning products has had for our clients, and the value of having engaging, curated and highly flexible content. These products, and our new digital learning hub, have redefined how we approach custom leadership program development, shifting the emphasis from traditional instructional design, to more strategic, and rapid, program architecting."
Founded in 1991, Hemsley Fraser provides training courses, digital and blended learning solutions and managed learning services that help improve individual, team and organizational performance. Part of the Demos/Weidong global family, it delivers learning in 90 countries.
TrainingIndustry.com is a portal for the training industry which aims to provide the information, insight and tools that practitioners need to more effectively manage the business of learning.
For further information, please call Hemsley Fraser on 888-559-0074. http://www.hemsleyfraser.com
Background notes: Hemsley Fraser is also ranked as a top 20 training outsourcing company by TrainingIndustry.com. For further information about Hemsley Fraser, please call Amanda Dawson (PR contact) on +4420-8953 8863 or e-mail her at amanda(at)daws(dot)com