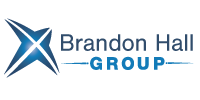 Leadership Development should focus heavily on developing emotional intelligence in leaders through a single leadership model deployed at all levels of the organization
DELRAY BEACH, Fla. (PRWEB) February 25, 2019
Brandon Hall Group, a leading Human Capital Management research and advisory firm, recently completed a Leadership Development study to find leading strategies to build a foundation for leadership development that can make a business difference.
Only 34% of survey respondents said they could prove their leadership development programs significantly impact their ability to meet business objectives. The top reasons cited were lack of data and analytics capabilities to demonstrate impact and their leadership development programs only touch a fraction of their leaders.
The 2018-19 study also showed that 41% of organizations don't believe their leaders have the competencies and emotional intelligence to successfully manage their business goals over the next 12-18 months.
However, the 54% of organizations that incorporate emotional intelligence development into their programs are almost 5 times more likely to say definitively that their leadership development has a business impact. These employers are also more than twice as likely to see increased employee retention and 72% more likely to experience increased employee engagement.
Organizations that operate with one well-defined model for how leaders think and act, including a commitment to coaching and mentoring, also see better results. About 72% of these employers say leaders can successfully manage business goals and that their leaders' personal and professional goals are closely aligned with an organization's business goals. Only about 44% of other organizations reported those results.
"This research validates Brandon Hall Group's belief that Leadership Development should focus heavily on developing emotional intelligence in leaders through a single leadership model deployed at all levels of the organization," said Claude Werder, Vice President and Principal HCM Analyst, who directed the research. "Organizations also must remove as much subjectivity from leader identification and development as possible."
Werder also said that organizations must have a single leadership vision aligned with their business objectives and culture. That vision must extend throughout the entire organization.
The survey was conducted among human capital management leaders and business leaders from October 2018 to January 2019. The survey received 366 valid responses. About half of responses came from organizations with more than 5,000 employees. Organizations from 27 countries and 34 industries responded to the survey.
For a sample of the research download this infographic view this infographic.
---About Brandon Hall Group Inc.
Brandon Hall Group is an HCM research and advisory services firm that provides insights around key performance areas, including Learning and Development, Talent Management, Leadership Development, Talent Acquisition and HR/Workforce Management.
With more than 10,000 clients globally and 25 years of delivering world-class research and advisory services, Brandon Hall Group is focused on developing research that drives performance in emerging and large organizations, and provides strategic insights for executives and practitioners responsible for growth and business results.
At the core of our offerings is a Membership Program that combines research, benchmarking and unlimited access to data and analysts. The Membership Program offers insights and best practices to enable executives and practitioners to make the right decisions about people, processes, and systems, coalesced with analyst advisory services which aim to put the research into action in a way that is practical and efficient. (http://www.brandonhall.com)