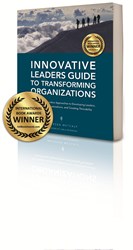 This is the most pragmatic change book I've ever read!
Columbus, Ohio (PRWEB) August 06, 2013
The "Transforming Organizations Assessment" looks both at the leader's ability as an innovative leader and the ability to transform the organization, and identifies where a leader and an organization have gaps that will impact transformation success. For leaders to consistently deliver results they must deliberately attend to changing themselves and their organization concurrently. The assessment provides a tool to evaluate competence against each of the seven steps in the transformation process defined in the Innovative Leaders Guide to Transforming Organizations, and the results of the assessment help determine where to focus developmental efforts, in addition to helping to understand strengths and risks.
Because innovative leadership influences by engaging the four dimensions or belief, action, culture, and systems equally, innovative leaders have a much higher success rate and are uniquely qualified to transform organizations. A primary reason for transformation failure is that leaders focus on the systems, rather than the larger context that includes themselves as the leader along with the culture along with systems.
Leading change starts with leadership and yet, in many organizations, the process of leading change often omits the idea that transforming leaders is an integral part of the overall transformation process. The Innovative Leadership Guide to Transforming Organizations is the foundation for this assessment. It starts with an approach to leadership called innovative leadership. It is a comprehensive model defining key elements required to successfully transform organizations.
During this era of increased complexity and failed change initiatives, amid an accelerated need for change, it is critical for organizations to identify new models that address these challenges while maintaining efficient and effective operations. This Guide provides models that increase a leader's ability to successfully implement sustained change.
According to Andy Manzer, president and CEO at Schuyler Hospital, "This is the most pragmatic change book I've ever read. As a leader implementing transformative change in my hospital, I found the tools and principles in the Innovative Leaders Guide to Transforming Organizations invaluable to our success.
Metcalf & Associates, Inc., is a leadership development and management consulting firm that uses an integrative approach to help leaders and their organizations innovate how they lead and how they operate, helping them to thrive in a rapidly changing environment. CEO Maureen Metcalf is an acclaimed thought leader who has developed, tested, and implemented emerging models that dramatically improve leaders and contribute toward organizational success. Go to http://www.innovativeleadershipfieldbook.com to find out more about Metcalf & Associates and for information about all the workbooks in the series.