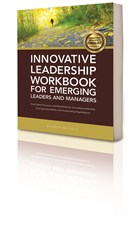 The Innovative Leadership Workbook for Emerging Leaders and Managers will help shape you into an excellent leader.
Columbus, Ohio (PRWEB) February 11, 2014
Innovative Leadership Workbook for Emerging Leaders and Managers is tailored to the needs of those who want to move into leadership and those in junior leadership roles. This leader development program is available in paper copy, or in a 10-month online format with accompanying videos and resources.
Metcalf & Associates is now providing examples of how leaders who have completed the workbook and used its techniques to accomplish their career goals. The story of Holly is a six-part blog series starting with the post Create a Compelling Career Vision in which Holly, an analyst in an HR department at a major university, talks about her experience using the Workbook to plan her next career step. Holly shares key elements of her overall exploration as she identified her next career move and took several important steps to position herself for long-term career success.
The workbooks are specifically designed for busy people, and include field-tested processes and worksheets for innovating leadership, transforming an organization, and creating sustainability. The workbooks guide readers on their own leadership journey with a series of development activities and provide insight into the thought processes of highly successful leaders who capitalized on their unique challenges to develop and incorporate innovation.
The workbooks and online programs provide a six-step process for developing innovative leadership qualities through a combination of well-researched theory, two practical business case studies, and corresponding tools and templates. The first two chapters of each workbook are available for download at no charge In addition, the first eleven weeks for the online program are delivered at no cost.
In her review of Innovative Leadership Workbook for Emerging Leaders and Managers, LeaderShape Board of Directors Chair and retired managing partner, Accenture Carla Paonessa, says, "This workbook helps you ask key questions of yourself as you emerge into leadership roles. Be patient as you grow. Take notes and be grateful for both good and mediocre leaders. The good ones model the way. The bad ones remind us what not to do. This workbook will help shape you into an excellent leader."
Metcalf & Associates, Inc., is a leadership development and management consulting firm that uses an integrative approach to help leaders and their organizations innovate how they lead and how they operate, helping them to thrive in a rapidly changing environment. CEO Maureen Metcalf is an acclaimed thought leader who has developed, tested, and implemented emerging models that dramatically improve leaders and contribute toward organizational success. Click here or go to http://www.innovativeleadershipfieldbook.com to find out more about Metcalf & Associates and for information about all the workbooks in the series.