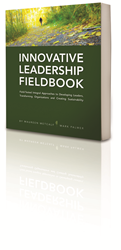 Leadership needs innovation the way innovation demands leadership.
Columbus, Ohio (PRWEB) November 04, 2015
Metcalf & Associates, Inc., today announced the new Innovative Leadership Workbook for University Students, with an expected release in the fourth quarter of 2015. Written by CEO Maureen Metcalf and Amy Barnes, EdD Senior Lecturer, College of Education and Human Ecology at The Ohio State University. The workbook is a companion to the 2013 International Book Awards Best Business Reference Book winner.
"Leadership needs innovation the way innovation demands leadership. By combining them, students improve their capacity to build cutting-edge leadership skills and deliver results in both student organizations and class during their university experience," says Metcalf. The Innovative Leadership Workbook for University Students — designed specifically for university students to develop a perspective on leaders and guide them through the process of becoming leaders, whether in formal student roles or informal ones — takes students on a leadership journey using Metcalf's six-step process for developing innovative leadership qualities.
This workbook is the entry point for leadership development in the Innovative Leadership series, which offers an integrated development process that starts as early as university and extends to the executive ranks. Activities draw from a combination of well-researched theory, three diverse case studies of domestic and international students, and field-tested processes and worksheets. The unique situation of each case study provides invaluable insight into how student leaders develop and incorporate innovation.
Eric Philippou, intern at Metcalf & Associates and student at The Ohio State University, wrote a blog series applying the Innovative Leadership Workbook materials to his development as a university senior preparing for employment after graduation. By following Eric's path, students and others seeking employment can build their own personal success.
Metcalf & Associates uses an integrative approach to help leaders and their organizations innovate how they lead and how they operate, helping them thrive in a rapidly changing environment. CEO Maureen Metcalf is an acclaimed thought leader who developed, tested and implemented emerging models that dramatically improve leaders and contribute to organizational success.