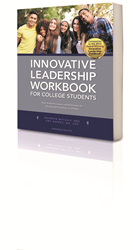 Innovative Leadership dissolves any stigma that leadership is only available to a chosen few.
Columbus, Ohio (PRWEB) January 12, 2016
Maureen Metcalf, CEO Metcalf & Associates and Amy Barnes, Senior Lecturer, College of Education and Human Ecology at The Ohio State University announce the release of their Innovative Leadership Workbook for College Students.
"Many students take a passive approach to leadership during college. It is as though they are waiting to become a leader … someday. The truth is we need you to be leaders now. Today. Not tomorrow or three years from now. You can begin developing leadership competencies and personal awareness now, as a student – and if you do, you will have a distinct advantage in the workplace when you graduate. Figuring out now who you are, what you value, and how to tap into your innovative self will enhance your experience as a leader later," says Barnes. The Innovative Leadership Workbook for College Students is designed specifically for college students who want to build a strong foundation for their emerging leadership skills. It includes field-tested processes and worksheets for building valuable leadership skills and aligning those skills with the cultures and organizations in which students participate, ranging from classes to clubs, jobs and internships.
Students are guided through a six-step process for developing innovative leadership qualities using a combination of well-researched theory, corresponding tools and templates, and case studies of three college students, including one from China. Material focuses on aligning leadership skills with organizational culture and explores tools for improving student leadership style. An in-depth description of the skills and abilities required for student leaders, along with comprehensive recommendations for building these skills, are also included.
This workbook supports college students in their individual leadership journeys through a series of development activities while providing insight into the thought processes of three diverse students from varying backgrounds who have different professional aspirations. Their unique challenges and experiences, faced in a broad range of student leadership roles, provide invaluable insight into how student leaders develop. Drew Stelljes, Ph.D., Assistant Vice President for Student Engagement and Leadership at the College of William & Mary, says, "The Innovative Leadership Workbook for College Students dissolves any stigma that leadership is only available to a chosen few. By focusing on innovative leadership, the authors empower students to focus on exploration and understanding of self and connectivity to a larger common good. In doing so, the authors provide us with a field manual for reasserting our commitment to graduating students who, by their example, will have to strengthen our communities."
Metcalf & Associates uses an integrative approach to help leaders and their organizations innovate how they lead and how they operate, enabling them to thrive in a rapidly changing environment. CEO Maureen Metcalf is an acclaimed thought leader who developed, tested and implemented emerging models that dramatically improve leaders and contribute to organizational success.