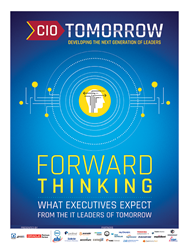 Leaders knew that disruptive change created pivotal points that preclude normal patterns from being maintained
Columbus, Ohio (PRWEB) April 28, 2016
Metcalf & Associates was the global media sponsor for the CIO Tomorrow conference, which provided CIOs and technology leaders insight from global thought leaders and panels of C-level executives across industries.
Metcalf & Associates' Maureen Metcalf interviewed two prominent thought leaders who were the conference's keynote speakers, Thai Lee, CEO, SHI International, and Dr. Dale Meyerrose, President, The Meyerrose Group, Major General US Air Force – Retired, at the conference for her VoiceAmerica radio show, Innovative Leaders Driving Thriving Organizations.
In early 2015, Fortune magazine sent a survey to each Fortune 500 CEO asking, in part, what their companies saw as their greatest challenge.
Not surprisingly, the highest response was the rapid, disruptive pace of technological change. Leaders know that disruption creates pivotal points that preclude normal patterns from being maintained. Their concerns about how these advancements impact their companies' future expectations – both from a capabilities and a consumer point of view – are worthy of serious consideration.
Technology leaders are distinguished by their ability to anticipate change and proactively identify organizational advantage. Leaders develop this insight by understanding trends provided by global thought leaders, as well as collaborating with local leaders to implement significant change across the region.
In the interviews, Ms. Lee and Dr. Meyerrose share key insights that have made their organizations successful and positioned them to navigate the disruptive change happening in the industry.
Metcalf & Associates, Inc. is a leadership development and management consulting firm that uses an integrative approach to help leaders and their organizations innovate how they lead and how they operate, helping them thrive in a rapidly changing environment. CEO Maureen Metcalf is an acclaimed thought leader who has developed, tested and implemented emerging models that dramatically improve leaders and contribute to organizational success.