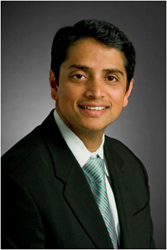 Leaders must evolve their leadership approach to truly transform an organization into one that successfully deploys agile and lean methodologies
Columbus, OH (PRWEB) June 08, 2016
VoiceAmerica released an online interview on May 10, 2016 featuring Nationwide Senior Vice President and Chief Information Officer of Application and Data Services Guru Vasudeva. Vasudeva shared insight about the intersection of lean and agile for the purpose of driving solid business results. Show host Maureen Metcalf of Metcalf & Associates, Inc., facilitated the interview on the station's program "Innovative Leaders Driving Thriving Organizations," which has an audience that includes business leaders, executive level leaders, technology employees and emerging business entrepreneurs.
"The programming for our show is designed to inspire leaders to think differently and influence companies to take action that will drive meaningful outcomes," said Metcalf. "This episode is worth your time—I highly recommend that business leaders from across business segments take time to listen to Nationwide's story and learn how the company is transforming its IT operations to produce a better experience for their customer."
Vasudeva discussed the important work being done within the company and the process by which the company identified how it could achieve optimal results through lean and agile. He focused his discussion on the principles of lean and agile practices pointing out the importance of changing the mindset and culture of a company when implementing the two practices within any organization.
"The work is accomplished differently, and, as such, must be led differently," said Vasudeva. "Leaders must evolve their leadership approach to truly transform an organization into one that successfully deploys agile and lean methodologies."
Agile software development methodology is based on a set of principles that allow developers to work across functional teams to produce, in weeks, the smallest possible useful segments of software and put it into the systems for users to comment on and improve. This software development methodology dramatically shortens the time to results and can increase the organization's ability to produce software that meets ever-changing requirements during dynamic times.
According to a Forbes article, "Why Lean and Agile Go Together," by contributor Dan Woods, "Agile's popularity has led to a problem: How do you apply it at scale? How can a large project run using Agile methods? One team working on one project in an Agile way is not hard to envision. But what about running 10 or 20 teams, each working on part of a product? How does the list for each iteration get sorted out and synchronized? How does the result of each iteration become integrated into the larger whole?" In this interview with Metcalf, Guru addresses these questions, talking very practically about how Nationwide augmented agile with Lean IT methods.
In the interview, Vasudeva shares his experience at Nationwide, a Fortune 100 financial services and insurance company, implementing lean and agile practices across the company's expansive IT organization. He shares the challenges along the way, recommendations for implementation, and the impact of improved financial and quality results. He explores the ability to integrate agile software methodology and lean IT methodology work in a way that drives major improvements, as well as how agile and innovation support one another.
Metcalf & Associates, Inc., is a leadership development and management consulting firm that uses an integrative approach to help leaders and their organizations innovate how they lead and how they operate, helping them thrive in a rapidly changing environment. CEO Maureen Metcalf is an acclaimed thought leader who has developed, tested and implemented emerging models that dramatically improve leaders and contribute to organizational success.