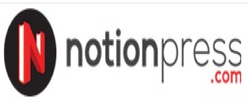 We are one of the most sought after online platforms offering the best in class self publishing services.
India (PRWEB) January 07, 2015
Due to its expert, reliable and cost effective self publishing services, NotionPress.com remains one of most preferred resources for new and already established writers who want to publish their works online. The company strives hard to make the publishing process an easy and cost effective affair for the writers. NotionPress provides writers a great exposure and allows them to market their books the way they want.
One of the executives working with the company stated, "We are one of the most sought after online platforms offering the best in class self publishing services. With more than 31432 registered authors and a huge number of 5570 books published to our credit, we enjoy a formidable reputation in the market. These numbers speak a lot about our expert, result oriented and cost effective publishing services. We assist writers in the whole process – from helping them in making informed decisions about their books being published in print or eBook format to fixing a logical price, distribution and calculating the royalty."
By offering myriad self publishing and follow up services, NotionPress.com provides already established authors a better self publishing platform, while to the new ones a great opportunity to explore their writing skills and let the world know about it. The online self-publishing platform offers publishing packages while keeping the needs, requirements and budgetary concerns of the writers in mind. Its expert editing, designing, publishing, book marketing, and distribution services are simply unmatchable to any other publishing services provider.
The executive further said, "Those with poetry, fiction, non-fiction, academic material or even manuscripts finding no favours from publishers can reach out to us and get their works self published the way they want – be it in print version or eBook format. We allow writers to publish their books in English, which is the most preferred language, Hindi and Tamil. We provide them valuable guidance to fix the price of the book and help them with unparalleled printing and distribution solutions to not only help them earn more but also become famous."
What makes NotionPress.com the most famous book publisher for budding and already established authors is the fact that it offers higher profits to authors as compared to any other online or offline publishing houses. Unlike most other publishers, NotionPress.com provides 70% profit to the author for every book sold. These traits make NotionPress.com one of the leading publishing companies in India.
About NotionPress.com
Many people are born with the talent to write, but their work remains on paper most of the times and does not see the light of the day. The reason being, getting published in the traditional way is not that easy and a writer has to sacrifice so many things in the process. Here, NotionPress.com comes to help and provides an online platform for budding and established writers to publish their literary works at their convenience. Established in 2012, NotionPress.com offers the budding and experienced writers reliable and cost effective self publishing services (including both eBook publishing. Owing to these reasons, writers prefer NotionPress.com for all their publishing needs. The range of self publishing services on offer includes publishing a fiction, short stories, non-fiction, poetry and academic material. By helping writers explore their talent, reach out to the target audience and earn good, NotionPress.com stands as one of the best book publishers in India.
Contact Information:
Notion Press Media Pvt Ltd,
Old No. 38, New No. 6,
McNichols Road, Chetpet,
Chennai, Tamil Nadu 600031
Phone: +91 44 42524252
Email: publish(at)notionpress(dot)com
Website: https://notionpress.com/
###