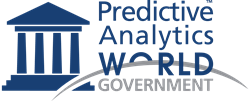 "Using machine learning to optimize government operations and reduce costs is a vital contribution to a more effective and efficient future for government agencies", said Rising Media CEO, Matthew Finlay."
WASHINGTON, D.C. (PRWEB) August 27, 2018
Senior leaders, data scientists and digital analysts in government will learn from industry leaders in analytics at Predictive Analytics World for Government, produced by Rising Media and Elder Research, and being held in Washington DC, September 18 - 19, 2018.
PAW Government is a practically-focused, vendor-neutral conference that highlights case studies and emerging trends of how government agencies are currently using data analytics to solve real world problems. "Using machine learning to optimize government operations and reduce costs is a vital contribution to a more effective and efficient future for government agencies," said Rising Media CEO, Matthew Finlay.
Predictive Analytics World for Government features both renowned analytics leaders and authors, as well as senior government stakeholders and practitioners already reaping benefits from machine learning strategies. Keynote speakers for the event include David Williams, Board of Governors (nominated) for USPS on Stealing Fire from the Gods; Tom Davenport, author of the forthcoming - - The AI Advantage: How to Put the Artificial Intelligence Revolution to Work, speaking on The AI Advantage for Government and; John Elder, founder of Elder Research, Inc. on why Data Science is The Greatest Science.
In addition, speakers from federal agencies including EPA, FDA, IRS, Naval Air Systems Command, US Department of Transportation, Treasury, USPS, and other organizations including the Data Coalition, Deloitte, Heritage Foundation, Institute for Excellence in Government, NFA, NYU Tandon School of Engineering, Toronto Police Service and UDC are all participating.
The event features two days of conference sessions and exhibition hall, plus three workshop days. Two management level tracks and one technical track ensure both practitioners and senior management will leave the event with an enhanced understanding of the possibilities machine learning and AI offer to government agencies.
Special panel discussions on Opportunities and Challenges for CDAOs in Driving Mission Strategies on Using Analytics to Drive Operational Excellence and Efficiency and on the Relevance of AI and Emerging Technologies to the Public Sector (Hype vs. Reality) round out the program.
Sponsors include Deloitte, Google, Datarobot, IBM, SAS, Alteryx, Esri and Neo4j.
Anyone who is interested in becoming a sponsor can learn more about sponsorship opportunities for Predictive Analytics World for Government here.
About Rising Media
Rising Media is a global events producer excelling in Internet and technology-related conferences and exhibitions. Rising Media-produced events include AllFacebook Marketing Conference, All Influencer Marketing Conference, AutosPlus, Building Business Capability, Data Driven Business, Data Performance Summit, Deep Learning World, Digital Analytics Hub, Digital Growth Unleashed, Email Innovations Summit, Global Online Marketplaces Summit, Inside 3D Printing, Marketing Evolution Experience, Predictive Analytics World (PAW) for Business, PAW Healthcare, PAW Government, PAW Industry 4.0, PAW Financial Services, RecPlus, RoboUniverse, Search Marketing Expo, SEMY Awards, Virtual Reality Summit, Web Effectiveness Conference, in markets including the US, Brazil, UK, France, Germany, Italy, India, South Korea and Australia.
For more information, visit http://www.risingmedia.com.
About Elder Research
Elder Research is the most experienced consultancy specializing in data science and advanced analytics solutions. The team create a sustainable competitive advantage for clients by combining creative people, proven systems engineering, and custom software to deliver actionable solutions that transform data into business value. Elder Research can provide analytics consulting support throughout the journey—from training and mentoring, to creating stand-alone analytic solutions, to helping build a team to develop solutions in-house.  They solve business problems as well as data problems. 
For more information, visit https://www.elderresearch.com/