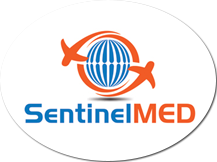 To deal with the unexpected, SentinelMED announced its repatriation services for domestic and international patients
Virginia (PRWEB) June 17, 2014
A comprehensive travel medical assistance company, SentinelMED will now be extending long distance medical transportation and repatriation services to domestic and international patients. This move comes as a welcome effort by travelling patients, whose customary insurance policies often do not apply outside the United States. One may be severely injured or fall ill and require medical assistance to return home for treatment. In these events, repatriation services can prove of great help.
SentinelMED, which has 25 years of experience, has been serving patients with medical assistance services. In the recent past, the company has been focusing on specialization in all aspects of medical travel. Today, it has a separate department dedicated to repatriation services for domestic and international patients, which according to Company Spokesperson "has been set up for the convenience and safety of US citizens travelling outside the country."
He further added that, "Our team of multilingual medical and assistance repatriation specialists will organize everything for the patient. Whether the patient requires intensive care transport to his home country, or to make travel arrangements for relatives abroad, we provide tailored solutions according to the need of individual patients."
Medical repatriation is a complex practice, which involves a number of strategic procedures assisting the patient to return home safely and conveniently. Sentinel MED is crewed by highly skilled and experienced medial teams, who are there to provide constant medical care and attention to the patient throughout transfer.
Over the years, SentinelMED has been positively reviewed by patients for the company's sophisticated case management procedures.
SentinelMED will be participating in CMSA's 2014 Conference & Expo.
Scheduled to be held on 17 – 20 June, 2014, SentinelMED presenters will be participating in the event on 19th June, 2014 at 3pm at the Cleveland Convention Center & Global Health Innovation Center in Cleveland, Ohio.
About SentinelMED
SentinelMED helps patients with medical travel and arrangements when they are away from home. The company is known for providing expert medical advice, patient travel assistance along with highly qualified and experienced medical escorts.