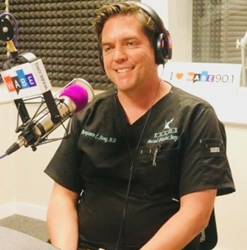 We would like to have aggressive protocols in place to effectively test patients going forward. Ideally, widespread screening of patients would be undertaken prior to anesthesia. And then as the outbreak comes under better control, widespread screening will become less important, says Dr. Ben Stong
ATLANTA (PRWEB) April 14, 2020
Prominent facial plastic and reconstructive surgeon, Dr. Benjamin Stong, gave his insight during an interview with Rose Scott on 90.1 WABE's "Closer Look with Rose Scott" program on Tuesday, April 7th, 2020. The popular Atlanta NPR news magazine features a mix of local, national and international stories. Dr. Stong shared with listeners the impact of the COVID-19 pandemic on his work volunteering internationally and on practicing medicine here at home. During the interview, Dr. Stong expressed his disappointment in the COVID-19 outbreak stopping the ability to travel and work with international non-profits. As a long-time volunteer, Dr. Stong discussed the importance of these international trip opportunities to provide cleft lip and palate facial surgeries for underprivileged children. He explained how these life-changing missions, including the one he was scheduled to go on this month, have been postponed until next year due to the global pandemic.
Later in the interview, Dr. Strong described the various issues affecting practitioners in the medical field dealing with the challenges of the COVID-19 health crisis. He shared with listeners the impact the outbreak has had on his medical practice and the complicated issues that will continue to affect all areas of medicine in the current climate. He stressed that quick action and rapid testing must become widely available to medical professionals.
"We would like to have aggressive protocols in place to effectively test patients going forward. Ideally, widespread screening of patients would be undertaken prior to anesthesia. And then as the outbreak comes under better control, widespread screening will become less important," says Dr. Benjamin Stong.
Dr. Stong then detailed how U.S. public health policy will need to learn lessons from dealing with COVID-19 and implement changes for the future. To listen to the full "Closer Look with Rose Scott" radio program featuring Dr. Benjamin Stong, please visit http://www.wabe.org or click on the link below.
https://www.wabe.org/episode/closer-look-marietta-city-schools-superintendent-talks-transitioning-to-online-learning-local-plastic-surgeon-discusses-covid-19s-impact-on-his-global-volunteering-efforts-atlanta-practice/
More about Dr. Benjamin Stong and Kalos Facial Plastic Surgery, LLC:
Dr. Benjamin Stong is dual board-certified and fellowship-trained in head and neck surgery and facial plastic and reconstructive surgery. At his practice Kalos Facial Plastic Surgery and The K Spa in Atlanta, Georgia, Dr. Stong combines his training, experience and talent to generate superior outcomes in both surgical and non-surgical cosmetic surgery. For more information about Kalos Facial Plastic Surgery, LLC, please call their Atlanta office at (404) 963-6665 or visit the website at http://www.kalos-plasticsurgery.com.