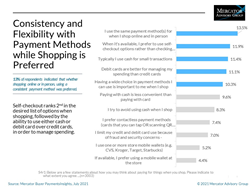 BOSTON (PRWEB) July 19, 2021
Mercator Advisory Group's most recent consumer survey report, Buyer PaymentsInsights: Payment Methods-Consistency and Flexibility, from its annual Buyer PaymentsInsights series, examines U.S. consumers' payment habits while shopping for goods and services in-store and online.
The report, which is based on an online consumer survey administered to 3,003 U.S adults between May 21 and June 22, 2021, covers the buyer experience and includes questions that explore consumers' preferred payment methods, most trusted payment type for information security, knowledge of cryptocurrency, and many more payment-related subjects.
Various aspects of how American consumers interact with the payments' ecosystem are brought together to highlight key trends in consumer behavior, preferences, and motivations, influenced by consumer perceptions and experiences with payment-related issues associated with payment options in a rapidly changing payment environment.
Readers will be presented with a detailed analysis of the impact of demographic characteristics on consumer behaviors and inclinations, general consumer trends, as well as actionable insights for industry players to consider.
"With so many fraud events associated with payment transactions, information security is at the forefront of many consumers minds when shopping in stores or online. As the data shows, consumers prefer a consistent payment method that they trust to ensure information security. Yet at the same time, it's important to them that retailers provide flexible payment options to address the need for shopping convenience."
-Amy Dunckelmann, Vice President, Research Operations, Mercator Advisory Group.
Highlights of the 2021 Buyer PaymentsInsights: Payment Methods-Consistency and Flexibility Report:

Preferred Payment Methods by Service
Most Trusted Payment Type for Information Security
Voice Activated Payments
Use of ATM
Cryptocurrency
Subscribers to Mercator Advisory Group's Buyer PaymentsInsights Survey have access to these reports as well as survey crosstabs, and the option of requesting custom queries from the survey data.
For more information and media inquiries, please call Mercator Advisory Group's main line: 1-781-419-1700, send email to media@mercatoradvisorygroup.com.
For free industry news, opinions, research, company information and more, visit us at http://www.PaymentsJournal.com.
Follow us on Twitter @ http://twitter.com/MercatorAdvisor.
About Mercator Advisory Group
Mercator Advisory Group is the leading independent research and advisory services firm exclusively focused on the payments and banking industries. We deliver pragmatic and timely research and advice designed to help our clients uncover the most lucrative opportunities to maximize revenue growth and contain costs. Our clients range from the world's largest payment issuers, acquirers, processors, merchants and associations to leading technology providers and investors. Mercator Advisory Group is also the publisher of the online payments and banking news and information portal PaymentsJournal.com.