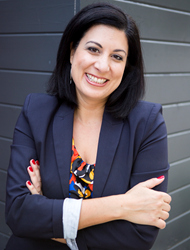 Leading Gracefully is a must-read for any woman who wants to make a bigger impact in the world." John Gerzema, New York Times Bestselling Author of The Athena Doctrine.
Los Angeles, CA (PRWEB) March 01, 2016
Announcing the publication of Monique Svazlian Tallon's new book, Leading Gracefully: A Woman's Guide to Confident, Authentic and Effective Leadership, written for women in business to build confidence and become effective leaders through embracing their feminine strengths. The book will be launched at the Microsoft Global Women's Conference in Seattle, WA on March 2, 2016.
With women making up only 14% of top executives in Fortune 500's and a growing outcry from Hollywood about equal pay and equal representation for women in film, Leading Gracefully addresses this issue by offering a new leadership approach for women; how to successfully use feminine strengths such as vulnerability, empathy and collaboration, combined with traditional traits, such as resilience and assertiveness, to breakthrough gender bias. The book is designed as a 'how-to' guide, with 15 powerful exercises, tips and resources women can apply right away to gain more confidence, authenticity and effectiveness to close the gender gap.
While working for a tech giant in Silicon Valley, Monique Svazlian Tallon was faced with a decision—should she lead like her male counterparts or try a different approach? Her choice to be more authentic and lean into her feminine strengths gained her unique insights into how women can break through gender bias and become far more effective as leaders, thus helping close the gender gap.
In Leading Gracefully, Feminine Leadership expert and executive coach, Monique Svazlian Tallon, presents neuroscience research that tells us that women's brains are wired for qualities like vulnerability, empathy and collaboration, which are the same qualities people are looking for in their leaders today. Through her extensive research, she has developed a visionary roadmap for women–The Feminine Leadership ModelTM—that plays squarely to women's strengths.
John Gerzema, New York Times Bestselling author of The Athena Doctrine says, "Leading Gracefully offers women a unique roadmap to effectively combine feminine strengths with traditional qualities of leadership—an essential and balanced approach in meeting the complex challenges of the 21st century. This book is a must-read for any woman who wants to make a bigger impact in the world."
To learn more, visit http://www.moniquetallon.com. Media Kit available to download by clicking here.
Leading Gracefully will be available for purchase through Highest Path Publishing on Amazon.com and other popular e-retailers on March 1, 2016.
About the Author: Monique Svazlian Tallon is a Feminine Leadership expert, executive coach, leadership trainer and speaker specializing in empowering women and closing the gender gap. Founder of Highest Path Consulting and the Women & Power Leadership Forum, her diversity and inclusion work is driven by a deep desire to help create a world where men and women hold equal positions of power.