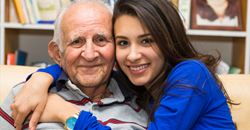 LeadingResponse's online leads can convert to move-ins at a rate four times higher than leads from the competition.
Plano, TX (PRWEB) November 17, 2015
As Baby Boomers entire retirement in full force, senior living communities face both a major opportunity and a major challenge.
The opportunity is in the volume: only 50% of Baby Boomers in their 60s are still in the workplace, and only one in three baby boomers ages 67 and 68 are still working, according to Gallup. That generation is on the front end of retirement with a deluge to come over the next decade. The challenge, however, is in awareness: many sexagenarians are unaware of senior living communities and their amenities, and so choose to remain in their homes until they can no longer sustain themselves.
To help senior living communities reach a broader audience, LeadingResponse has launched a lead generation model that blends online marketing and offline outreach.
Exclusive Online Lead Generation
LeadingResponse's online model focuses on exclusive leads, thanks to the technology and algorithms the company has refined in other industries. The model matches visitors to very specific community types based on geography, budget, and other factors. The leads then progress through a call center to verify contact information, needs and budget before they are sent to a community.
Because LeadingResponse markets online at a national scale, it can create hyper-local targeting for any community while still providing the cost savings of a national campaign. Thanks to the exclusive lead model, LeadingResponse's online leads can convert to move-ins at a rate four times higher than leads from the competition.
Local Educational Events
The offline marketing portion brings people to a live educational seminar in a neutral location through direct mail marketing, where representatives from a single community then present the value of their offering and answer questions directly. Custom programs are developed to match each community's targeting and business needs. LeadingResponse has conducted nearly 500,000 direct marketing campaigns using a proprietary consumer-targeting database to determine how to best reach your specific audience to generate the best results.
LeadingResponse currently serves independent living, assisted living, memory care, in-home care and continued care retirement communities. For more information or to inquire about partnership opportunities, visit LeadingResponse.com.
About LeadingResponse
LeadingResponse is a client acquisition conglomerate that brings 36 years of experience into a single, powerful source of leads to grow your business. We use custom marketing systems to identify, qualify, and communicate with new customers on any scale, delivering exclusive prospects in your territory of choice, so you can grow your business faster.
Learn more about how to grow your business with LeadingResponse at LeadingResponse.com.