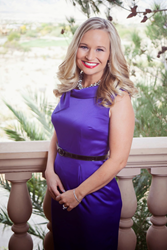 I hope this book can help fellow overwhelmed moms in the same way. We need to be encouraged, laugh and be inspired!
(PRWEB) January 27, 2015
Leah Spina believes that changing your perspective as a new parent can change everything for the better. Her message is to encourage overwhelmed, stressed out mothers with wit, humor and honest candidacy about the challenges of new parenthood through real-life stories. She tasted common new parenthood battles firsthand: as a new mother, Spina experienced a great deal of emotional upheaval and overwhelm. When her second child was born, she worked as hard as she could to care for two small children, but felt overwhelmed. She wanted to enjoy motherhood and her small children, but she didn't know how. Slowly, she started to change her perspective and soon realized that children are only small once – maybe the little years were not just a season to endure, but a once- in-a-lifetime gift to savor each day. Spina's determination to slow down and enjoy time with her kids inspired her new book, Stop and Smell Your Children.
Next Century Publishing will launch Spina's Stop and Smell Your Children this year, just in time for Mother's Day 2015 – the perfect gift for new moms or moms-to-be. The book is written specifically for busy moms with short, easy-read chapters. After each chapter, Spina also offers mothers quick, constructive takeaways to apply to their parenting season. Spina touches on many parenting challenges with brutal honesty and quick-witted humor: morning sickness, the sleepless newborn, eating out with toddlers, potty training, etc. However the challenges and uproarious humor are all rooted in Spina's heart-warming and inspirational love for her children and motherhood; she helps readers find beauty in the chaos of parenthood.
Says Spina, "As a new parent, I was surrounded by amazing friends and family that held my hand during new parenthood struggles. They offered wise words and bright encouragement in the middle of hard, long days. I hope this book can help fellow overwhelmed moms in the same way. We need to be encouraged, laugh and be inspired!" She hopes her book will help any mothers that feel they're just "getting through" parenting to truly enjoy their children. Spanning from her first, positive pregnancy test to her son's fourth birthday party (where Batman terrified the toddler guests), Spina's book is the perfect handbook for parenting "the little years."
Young children are gifts who teach us about ourselves despite constant diaper changes and projectile spit-up. Spina hopes Stop and Smell Your Children allows mothers to enjoy—not just endure—the little years. For further information on the upcoming book please inquire at: http://www.nextcenturypublishing.com/contact/.
Leah Spina
Leah Spina was home educated, graduated from Thomas Edison State College with a B. S. in Business Administration, and is the oldest of five children. She worked as a reporter for a national newsweekly and later for a large adoption agency with pregnant teenagers. In her free time (wait, what free time?), she enjoys riding horses, springboard diving and playing golf on hot open Texas courses. She resides in the Dallas/Fort Worth area and has been married to her best friend David for six years. She spends most of her time reading Curious George picture books to her white-haired son, Samson, and swatting diapers on her live cabbage patch doll baby, Esther – usually while overdosing on coffee.