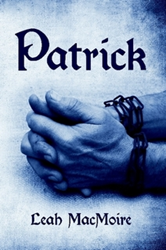 This book tells a dramatic story of suffering and survival, which happens to be true
NORWICH, England (PRWEB) June 22, 2015
Legends abound regarding the life and times of the Irish figure St. Patrick. Examining the letters St. Patrick wrote himself, author Leah MacMoire started her journey to discover what the saint had to say about his own life. This research led MacMoire to write her new historical fiction, "Patrick" (published by Lulu), based upon the early life of St. Patrick.
Set in the fifth century, during the last flowering of the Roman Empire, the book tells the story of Patrick. As the only son of British aristocrats, he leads a life of privilege and ease. Kidnapped by pirates and dragged to Ireland, he is sold into slavery where he toils and suffers as never before. The story covers the years Patrick spent working as a slave, up to his eventual escape and return to his family.
"This book tells a dramatic story of suffering and survival, which happens to be true," MacMoire says. "It pulls no punches as it explores themes of violence and slavery, but shows that it is possible for a victim to transcend these acts."
As an Irish girl growing up in England, MacMoire was fascinated by the stories of St. Patrick, but as she left childhood behind she found it hard to see the man behind the myths. However, as an undergraduate at Oxford, England, she was able to read his letters in their original Latin. This experience brought St. Patrick into sharp and powerful focus. MacMoire hopes her book will speak out for those still enduring slavery, through the life of the Irish saint.
"Patrick"
By Leah MacMoire
Softcover | 6 x 9 in | 222 pages | ISBN 9781483426181
E-Book | 222 pages | ISBN 9781483426174
About the Author
Born in 1971, Leah MacMoire moved from Ireland to England as a child. She received her master's degree in English language and literature from Oxford University.
Lulu empowers people of all ages to explore and express their interests, passions and expertise through books, photography and art. Since introducing self-publishing in 2002, Lulu has empowered creators in more than 225 countries and territories to produce nearly two million publications. Lulu Jr. allows children to become published authors, encouraging creativity, strengthening literacy and building self-esteem. Picture.com offers professional photography of collegiate and professional sports, memorable and historic events, fine art and home décor. For more information, please visit http://www.lulu.com.