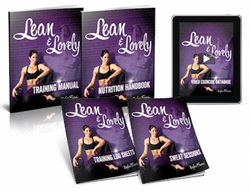 Las Vegas, NV (PRWEB) August 07, 2014
Lean and Lovely has finally been released by training and fitness coach, Neghar Fonooni, designed to help anyone lose fat, gain strength, develop confidence and cultivate radiance, while maintaining the true essence of one's femininity. The training program is designed specifically for women who want to look amazing, boost strength and shine from the inside out.
After a quick Lean and Lovely review, health and fitness enthusiast Shane Michaels agrees this new training program by Neghar will help anyone burn fat, strengthen their core and obtain more inner confidence. "I am always impressed with Fonooni and her style of training. Not only does she work on perfecting the outer appearance of her students, she also focuses on self-confidence that makes people transform from within."
According to Fonooni, transformation begins in the mind, it's all about self-image. Once the mind is right, workouts are much more effective and progression towards goals increase. Everything just clicks and works together in a more productive way, so results are seen even quicker. This is exactly what most training programs lack and why Neghar has focused on this concept with all her students.
Brenda B from Los Angeles, who is a student said, "… Lean & Lovely has changed me mentally and physically. Neghar has truly helped me change my bad eating habits and taught me how to workout effectively to make improvements with my training. I am happy with my body and know it will always be a work in progress, but my confidence and eating habits have made such a big improvement that I know the journey will be much easier for me going forward."
The 12-week training program consists of 5 different components. No matter what level, beginner, intermediate or advanced, this training manual is designed to take one from where they are to where they want to go. The nutrition handbook reveals specific nutrition guidelines on what to eat and when. Knowing what foods works and which ones don't, how often to eat and when make a huge difference in the overall sculpting process.
Manual 3 is designed to make the program even more effective with sweat sessions that take as little as 8 minutes. Manual 4 is a compilation of video exercises, 65 of them, from one of the premier kettlebell experts in the world. Manual 5 is training log sheets. This allows one to gauge their progress correctly and keep track of workouts, what exercises to do and how many reps. It also comes with a full 12-week "see results" guarantee so there is nothing to lose.
To learn more about the full training program or to buy the Lean and Lovely program go here.
"This training program is perfect for anyone who is having a hard time being motivated to lose weight or lacking self-confidence," says Shane. "Neg is a phenomenal coach and can transform anyone who has the right mindset."
Those who are looking for a lifestyle change and want to find out more about Negs Lean and Lovely program can visit their site here.