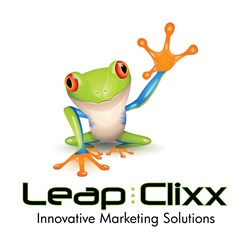 We saw a perfect fit between Hubspot's award winning marketing automation platform and our inbound marketing services.
St. Louis, MO (PRWEB) November 05, 2013
Leap Clixx announced several new inbound marketing services available to Hubspot customers and visitors via the Service Marketplace. Visitors to the marketplace are able to browse over 100 Hubspot certified professionals to find the job or service they need completed. Once they have found a suitable provider, a marketplace visitor can contact the service provider directly from the marketplace to initiate a project. This can save the visitor time and money over having to hire an in-house inbound marketing expert.
"We saw a perfect fit between Hubspot's award winning marketing automation platform and our inbound marketing services," stated Michael Kiel, Executive Vice President of Leap Clixx. "When our SEO or PPC services are combined with the Hubspot platform, businesses typically see a flood of visitors and leads to their website and analytics dashboard. We've had great success working with everyone from the local landscaper to larger businesses with a full time Marketing Director."
Leap Clixx offers On-Page SEO, Off-Page SEO, Local SEO, Pay Per Click, Blog Writing and Social Media Marketing services via the Hubspot Service Marketplace. In addition to these services Leap Clixx can also "Do Inbound Marketing For Me," a service which encompasses a variety of their services into one easy to purchase package.
For small business owners that are not ready to hire a full-time online marketer, Leap Clixx can handle all of their inbound marketing needs. For mid-sized businesses, Leap Clixx can act as an extension of their marketing team. And for other businesses which are just looking for someone they can trust when necessary, Leap Clixx can fulfill that need as well. "It's an easy formula," stated Mr. Kiel. "Get found, generate leads, integrate marketing efforts and increase revenue."
About Leap Clixx:
Leap Clixx is an inbound marketing company in St. Louis that helps small and medium sized companies grow their business through online marketing. Leap Clixx develops, implements, and tracks Internet marketing campaigns for businesses with a focus on search engine optimization, Google Adwords management, and social media marketing. Their online marketing consultants focus on what matters most to you; building your business. Call Leap Clixx today and find out how they can help you.