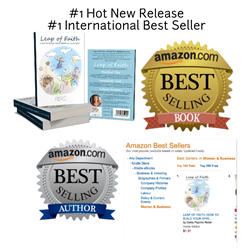 "After feeling from spirit that my neighor was dying I immediately called 911. The officers and I broke into his house and discovered he had passed away" -Colby Psychic Rebel
Los Angeles, CA (PRWEB) September 15, 2016
Colby, Psychic Rebel, releases her new book Leap of Faith: How To Build Your Spiritual Business and it catapults to #1 on four of Amazon's best seller lists confirming the spiritual community's craving for this information.
Leap of Faith is an all-inclusive resource geared towards those seeking to start a holistic, metaphysical or spiritual practice and longing for the answers necessary to build a thriving and financially abundant practice.
Colby addresses every aspect of a spiritual business from self-doubt and fear to branding, social media and headshots, as well as, discussing the practical aspect of tax deductions, filing requirements and legal compliance. Never has a book been more encompassing and direct in its approach to help the spiritual entrepreneur build a thriving practice. Colby fills the void by combining the practical with the spiritual with her down-to-earth approach and bite-size chapters.
Colby spent 14 years in public accounting and taxation but changed her career after finding her neighbor dead in his home. Colby was experiencing severe heart palpitations and instantly felt grave concern for her neighbor. She immediately called 911. Upon the officer's arrival, they discovered the neighbor deceased in his arm chair. They later learned he had died of massive heart failure within the hour of Colby's call to 911.
Excerpt from Leap of Faith:
"Your daily caffeine fix may feel necessary to you, but it may not be considered tax deductible. For a business and/or entertainment expense to qualify as a business expense it must meet the following requirements:
1. Main purpose of the expense was active conduct of business.
2. You engaged in business with another person.
3. There was an expectation of deriving income or business benefit at some point in the future.
Unfortunately, the IRS does not consider all entertainment to be created equal. Some specific entertainment expenses are NOT deductible. To learn what is NOT DEDUCTIBLE click HERE.
"Leap of Faith is an all-encompassing guide to making a living as a light worker, and essential read for anyone looking to break into the business" - Yogi Times Magazine. The full review is available HERE.
"Leap of Faith: How To Build Your Spiritual Business is an essential guide for anyone who is stepping into the spiritual world but needs to grasp the business reality. Colby is able to take them through, guiding step by step, while intertwining the spiritual element" - Lisa Williams, author of Survival of the Soul, Internationally Acclaimed Medium & Clairvoyant
Leap of Faith: How To Build Your Spiritual Business is available on Amazon