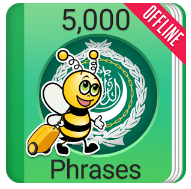 Learn Arabic 5000 Phrases, an Arabic language learning tool which has now 500 Arabic phrases, will soon have 5000 new phrases. The developers have planned to add thousand new phrases every month to its database.
(PRWEB) October 04, 2016
Learn Arabic 5000 Phrases, an m-learning tool for Arabic language enthusiasts, is all set to become a more inexhaustible app in the near future. Fun Easy Learn, the mobile app development firm engaged in the business of developing cutting edge e-learning tools, recently informed that they will add thousand new phrases every month to the database of the app, making it bounteous of commonplace Arabic phrases. At present, there are only 500 phrases in the app's database.
The developers recently stated that they started the app, Learn Arabic 5000 Phrases, initially with 500 phrases as they wanted to gather feedback from their existing users to make the app more useful and effective for both new and advanced learner. They prefer to call the present version as the 'beta' version of the app as the database is not filled to capacity as yet. However, users can now translate the Arabic phrases, and all 500 of them, into 60 different languages.
"Learn Arabic 5000 Phrases is an intuitive designed app which addresses quite well the challenges faced by a new learner of the Arabic language. Arabic is completely different in grammar and syntax from the Romance languages. This is the main reason why many European and North American learners, as well as learners from other parts of the world, face huge difficulty while learning Arabic. Our aim now is to make the app more resourceful. However, we want to test user feedback before that. For use convenience, we have translated Arabic phrases into images so that completely new learners don't face much problem comprehending the meanings of the common Arabic phrases," said a developer from Learn Arabic 5000 Phrases.
When asked about why they chose not to include words in their database, and added phrases instead, the developers told that the app is meant to help non-natives to Arab countries in real-life, practical situations.
"There are people who face a lot of problems in Arab due to language barriers and this app addresses their concern," commented the developer.
About the Company
Learn Arabic 5000 Phrases is a Fun Easy Learn m-learning app. To know more, visit http://www.funeasylearn.com/app/learn-arabic/