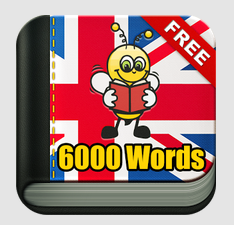 Learn English 6000 Words Language Learning App Crossed Five Million Downloads Worldwide
(PRWEB) February 17, 2015
Learn English 6000 Words, an interactive app designed for English language entry-level learners, has been downloaded more than five million times, the developers of the app confirmed very recently. Fun Easy Learn, the app development firm that has designed the e-learning app, has also developed many other language learning apps in the past. It has been confirmed by the developers that Learn English 6000 Words has already reached the magic figure of 5 million downloads worldwide.
Learn English 6000 Words is an interactive learning app that is available in 51 different languages. English language learners who use the app have to choose from seven different interactive games. According to the developers, the app has a number of built-in features that would make English language learning easy and fun-filled even for the beginners. They have mentioned that users can just use the 'Spin' option to choose from the topics and subtopics. The vocabulary app is available three levels, Beginner, Intermediate and Advanced. The developers have claimed that the unique features of the app cannot be found in any other language learning app of this type.
"First of all,Learn English 6000 Words is a free to use app and anybody can just download, install and start using it. The app's compatibility with both Android and iOS is another big reason why it was downloaded by so many users worldwide. We believe that the app will be really helpful for beginner level learners of the Queen's language. The interactive games and different difficulty levels would make learning quite exciting for our users", one of the senior developers told with conviction while being interviewed by the local press.
The CEO of Fun Easy Learn also met the press very recently and explained why they believe Learn English 6000 Words will gain even more popularity. He said, "Our application has been specially designed for the beginners. We have purposefully kept the interface clean and simple so that users can just find the meanings of the English language words in their own languages. Besides, the games and other interactive features are also quite exciting.
About the Company
Learn English 6000 Words belongs to a family of language learning apps, all developed by Fun Easy Learn, an e-learning app development company.
To know more, visit http://www.funeasylearn.com/app/learn-english/