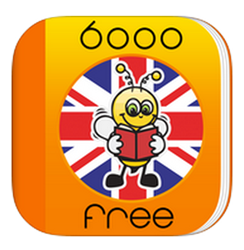 iOS Version of Fun Easy Learn English Vocabulary Learning App Launched.
(PRWEB) June 11, 2015
Fun Easy Learn, a leading developer of vocabulary apps, recently announced that one of their flagship software products is now available for iOS users. Learn English 6000 Words, the English language learning app from Fun Easy Learn, is now available in the Apple iTunes store. The users of the Apple OS can directly download the app from the iTunes store for free and learn a wealth of English words easily. As the self-learning app uses an image-based method of teaching English words, students and enthusiasts can easily grasp the meanings of the English words, even if their mother tongue does not have a Latin root.
The developers at Fun Easy Learn expressed great joy over the fact that their app is now available for both Android and iOS users. They added that they have plans to make the app available for windows phones as well. Fun Easy Learn owners also indicated that their other language learning apps would soon be available in both Android and iOS versions.
While meeting the local press people, the chief developer of Fun Easy Learn talked at great length about their future plans and also the core features of the language learning app. "English is one of the most spoken languages the world over and we wanted to make it easier for English language learners to use the app developed and designed by us. More than 50 different languages are supported by the app and people speaking those languages can easily learn the language with the app installed on their mobile phones," he said.
"If we talk about our plans and objectives, we have aimed at making a vocabulary app for every other major language in this world. Now that the app is available on Apple iTunes, we believe that many more people would just download the app and start learning the Queen's language right away," he added while talking to the press. He also said that Fun Easy Learn would focus on developing more interactive self-learning apps in the near future.
About the Company
Learn English 6000 Words is a revolutionary mobile application from Fun Easy Learn that helps end users to learn the language without a trainer.
For more information, visit http://www.funeasylearn.com/app/learn-english/.
To find the app in the iTunes store, visit https://itunes.apple.com/us/app/learn-english-6-000-words/id923280720