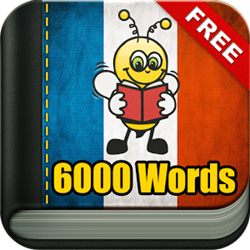 Learn French 6000 Words Crossed 500,000 Downloads
(PRWEB) October 17, 2014
Language learning applications from Fun Easy Learn are extremely popular among learners of different languages. Learn French 6000 Words, flagship software developed by Fun Easy Learn, recently reached 500,000 installs. The developers have shown great excitement about the app crossing the 500,000 user benchmark. According to them, five hundred thousand active users testify to the increasing worldwide popularity of the French Learning app. The app, which is now available now on Google Playstore for free download, has received a 4.4 rating out of 5 from active users.
Though the French language is the most beautiful and most poetic among all Romance languages, it is considered by many as one of the most difficult European languages. Users from other European countries often fail to get a good command over French grammar, vocabulary and syntax. Learn French 6000 Words is designed in a manner that people with no familiarity with the French language can enrich their vocabulary while on the move. Learn French 6000 Words can be installed in phones powered by Android 2.3.3 and other advanced versions.
"It's a free vocabulary app and anybody using a Smartphone can just download the app and start learning the language right away. Learning any language should be fun and we have just tried to ensure that. We are overwhelmed at the user response we are getting. Every single day, hundreds of users are downloading and installing the app. It shows that the Learn French 6000 Words has been widely chosen as a French language learning app", one of the chief developers told the press.
"We are eager to get more feedback from our existing users. We know the previous versions of the app contained some bugs and we have successfully fixed them. I am confident that our users will love the latest version.", another developer mentioned.
The French learning app translates French words into 50 different languages including some Asian and African languages as well as European languages.
About the Company
Fun Easy Learn has been developing small, lightweight yet highly useful learning applications since its inception.
To find more about the Learn French 6000 words application, just visit https://play.google.com/store/apps/details?id=com.funeasylearn.french6000