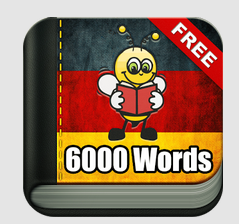 Learn German 6000 Words App Already Downloaded by More Than One Million Users
(PRWEB) March 17, 2015
Learn German 6000 Words, a German language learning app from Fun Easy Learn, has just crossed 1 million users worldwide. On behalf of Fun Easy Learn, the application developer, it has been already confirmed that the app has been downloaded by more than 1 million users worldwide. According to them, 1 million users is an incredible achievement for them and they aim now to double the number of downloads in the next fiscal year. It has also been added by the developers that the app is especially popular among kids and entry-level learners.
Learn German 6000 Words is an interactive German vocabulary learning app that is available now in 51 different languages. There are 7 interactive and fun games that can be highly beneficial for young learners who want to learn the language in a fun and interactive manner. There are also three different difficulty levels in the app. According to the developers, they are regularly updating and upgrading the app to make it more feature-rich and interactive for the end learners. The present version of the app also comes with loads of learner-friendly features that are much liked by users across the world, the developers have claimed.
"We are quite excited at this moment and we have reasons to celebrate. Learn German 6000 Words was initially the least performing language learning app developed by us. However, with passing time, the app has got incredible popularity across the world and that encourages us to improve the user experience even more", said the chief developer. "We anticipated 1 million downloads by end of June but we have reached that milestone much before than that", he was ecstatic while talking to a small group of journalists here. Another senior developer also met the press on behalf of Fun Easy Learn and he described the salient features of the language learning app. "Its USP is its interactive features. We hope kids will like it more than their grown counterparts", he said.
About the Company
Learn German 6000 Words is an app from Fun Easy Learn.
To know more, visit https://play.google.com/store/apps/details?id=com.funeasylearn.german