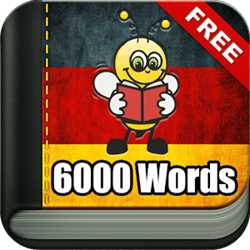 Fun Easy Learn App Learn German 6000 Words hit a rollicking 500,000 installations
(PRWEB) October 16, 2014
German can be a tricky language to learn. The Learn German 6000 Words app by Fun Easy Learn helps with beginner level German learning, as well as others. Since its launch, the app has been downloaded more than 500,000 times from Google Play store. The interactive design of the app facilitates learning German in an easy and pragmatic way. The app had been designed exclusively for those who like learning through audio-visual media. The company has kept the app interface simple so that people of all ages can learn German from the app. The app is still available for free download at Google Play Store.
All of the 6000 German words are accessible in the free version of the app. In most language learning apps, the full quota of words is available only in the paid versions. This is being cited by many as one of the major reasons behind the unparalleled success of the app. However, it is not just the word count that seems to have done wonders to the app. The choice and distribution of German words has also played a major role in the success of the app. The words in the app have been carefully and grouped under 140 different thematic topics. No word or phrase has been included randomly in the app.
Each new word that the user learns comes with a total of 5 components that aid in learning. Every German word has been translated into more than 50 languages for the ease of learning. Apart from that, there is appropriate pronunciation, illustrative image and phonetic transcription, all served in a distinct and descriptive manner.
To make learning easier, the Learn German 6000 Words app has been distributed into 3 difficulty levels. The beginner level has 1000 words of easy vocabulary. The intermediate and advanced levels have 2000 and 3000 words respectively. The lead app developer recently spoke to the media regarding the phenomenal success of the app. He said: "Our entire team put in immense hard work into the designing of the app. The results are overwhelming and we are inspired to keep up the good work."
About the Company
Fun Easy Learn is a niche foreign language learning app developer. The German language learning app by the company has crossed 500,000 installations.
More information is available on the app at http://www.funeasylearn.com/app/learn-german/