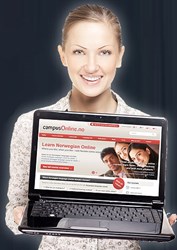 Online studies can also be a good supplement to classroom instruction. In this way, the web-based instruction provides increased opportunities for quicker progression through the study programme
Bergen, Norway (PRWEB) August 19, 2013
CampusOnline.no, a web-based school offering complete courses with tutoring to help students learn Norwegian online, announces the redesign of its website with new and improved language learning features. New courses have been added as well as new features to help students find the right courses for their needs.
The new "Language Course Chooser" helps direct students to the courses of study that meet their requirements. Options include work-related courses, introductory courses, refresher courses and general language courses. Students select their preferred learning method and whether or not they want a tutor or would like to learn independently through self-study. The new tool then creates a list of courses that allow students to learn Norwegian in the ways that will suit their goals, schedules and learning styles.
By offering courses online in three, six and 12 month terms, CampusOnline.no provides Norwegian language courses that meet a wide range of goals. All of CampusOnline.no's are approved by VOX, the Norwegian Agency for Lifelong Learning and are in compliance with the Act of 4 July 2003 relating to the instruction and introduction of newly-arrived immigrants. Whether students are looking to learn Norwegian for a job, to move to Norway or just to have fun, CampusOnline.no's courses are designed to make this possible. The ability to take the entire course online, with or without a tutor, makes learning easier and more flexible.
"Web-based instruction is a good solution for you if you do not have the ability to take part in traditional classroom instruction due to work, family obligations, travel or a general lack of spare time, or because you essentially are happiest working online," explains an article on the CampusOnline.no site. "Online studies can also be a good supplement to classroom instruction. In this way, the web-based instruction provides increased opportunities for quicker progression through the study programme."
Additionally, all of CampusOnline.no's Norwegian language tutors are approved for teaching education and have extensive experience in Norwegian as a second language studies, migration education studies or both. All of the courses on the site include the option of supervised sessions with an experienced tutor to aid in language study and practice.
About CampusOnline.no:
CampusOnline.no is an online school that offers complete, web-based Norwegian language courses with tutoring. CampusOnline.no offers courses for three, six or twelve months with approved Norwegian instruction for adults. The Norwegian courses contain an admission interview, language test, individual instruction plan and tutoring. For more information, visit http://www.campusonline.no/english.