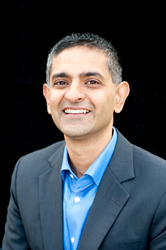 I was especially impressed by how sophisticated corporations immediately recognized the transformative capability of the LearnBIG approach
Seattle, WA (PRWEB) March 31, 2015
LearnBIG, Inc., a provider of cloud-based responsive e-learning programs for businesses, today announced it has added Mahesh Ram, former CEO of GlobalEnglish to its Advisory Board. Ram spent 15 years at GlobalEnglish, where he led the company to become the global leader in its category with over 75% of the Fortune 500 as customers, and ultimately to its acquisition by Pearson PLC, the world's largest education and publishing company.
"I view LearnBIG as a leader in this next generation of disruptive cloud-based learning platforms for the enterprise," noted Mahesh Ram. "Although there are a plethora of online learning materials available for the enterprise today, most struggle with delivering high levels of learner engagement, resulting in poor outcomes for both learners and their employers. LearnBIG's unique and differentiated platform transforms the way corporate learners engage with content, resulting in demonstrably higher completion rates, better knowledge retention and more rapid skills acquisition. I was especially impressed by how sophisticated corporations immediately recognized the transformative capability of the LearnBIG approach."
LearnBIG also recently added start-up veteran Court Lorenzini to its Board of Directors. Lorenzini, co-founder and original CEO of DocuSign, and current founder and CEO of CookBrite, Inc., has a significant track record in helping to launch successful companies and will advise and support LearnBIG as it achieves its next phase of growth.
"Successful start-ups share many key characteristics, including a terrific team, a ground-breaking product, and a solid business strategy. LearnBIG has already seen significant success with enterprise-level buyers of corporate training, and I'm excited to help the LearnBIG team grow and scale its business for the future".
Built on the basic fundamentals of adult learning theory, LearnBIG designs and then delivers interactive video content to enterprises and their employees via a cloud-based platform. Training sessions are real-life, scenario based and adapt on respondents' answers and success rates in real-time.
"Enterprise training is a $160 billion market and most corporations dedicate resources or allocate considerable budgets to build training resources that often amount to little more than power points and talking-head videos," said Victor Alhadeff, CEO and chairman of LearnBIG. "We're excited to have Mahesh and Court on board, and as proponents of our solution, which delivers a much more engaging experience. It really moves the needle on employee development rather than simply checking off a box."
About LearnBIG
LearnBIG was founded to reimagine learning by providing customized and personalized online education designed to improve business performance. Tailored to support specific business, culture and brand objectives, LearnBIG's adaptive and interactive online e-learning design and platform supports a vast range of subject areas, including: HR and Compliance, Sales, Cybersecurity, IT skills, Business and Management and Operations and Safety training more cost-effectively than classroom-based instructor-led training. LearnBIG is headquartered in Seattle, WA and was founded in 2013. It has raised $2.2M in funding to date from investors including Costco Co-Founder Jeffrey Brotman and Former Charles Schwab CEO David Pottruck. For more information about LearnBIG, please visit learnbig.com or follow us on LinkedIn, Twitter or Facebook.